Floorings: the biggest trends paving the way in hotels
As a prominent part of interior design, flooring can add to the overall appeal of a hotel.

Patrick Kingsland

takes a look at the biggest flooring trends hitting the hotel industry.
It may be the first thing you notice as you enter a hotel lobby and it's certainly the first place your feet will tread. It can turn a gloomy corridor into a stylish space that reinforces a hotel's theme and brand.
In the world of hotel design, flooring might not be the sexiest topic but its significance to a guest is hard to overstate. The difference between a stale old carpet and snazzy parquet can define a guest's experience – and the review they decide to leave.
Of course, choosing the right option is never easy. Hoteliers face a dizzying array of materials with different aesthetic qualities: from laminates, carpets and marble, to ceramic, concrete and hardwood.
The different materials often involve trade-offs. The most comfortable may be the hardest to clean and maintain. The sleekest-looking may make the loudest noise when trodden on, or may become slippery when cleaned.
Here we outline five flooring trends in the hotel industry, from hard surfaces with anti-slip finishes and materials that provide low-cost luxury, to traditional carpet designs that ooze warmth and quality.
Nothing quite ruins a nice flooring design like a bright yellow caution board with the words: "Wet floor. Cleaning in process". This can be hard to avoid for most hard materials. But an increasing number of companies now offer flooring options with anti-slip finishes that reduce the need for eyesores and the possibility of accidents that end in costly personal injury lawsuits. The finishes can be used in hotel lobbies, kitchens, pool decks, walkways and guest rooms to name but a few.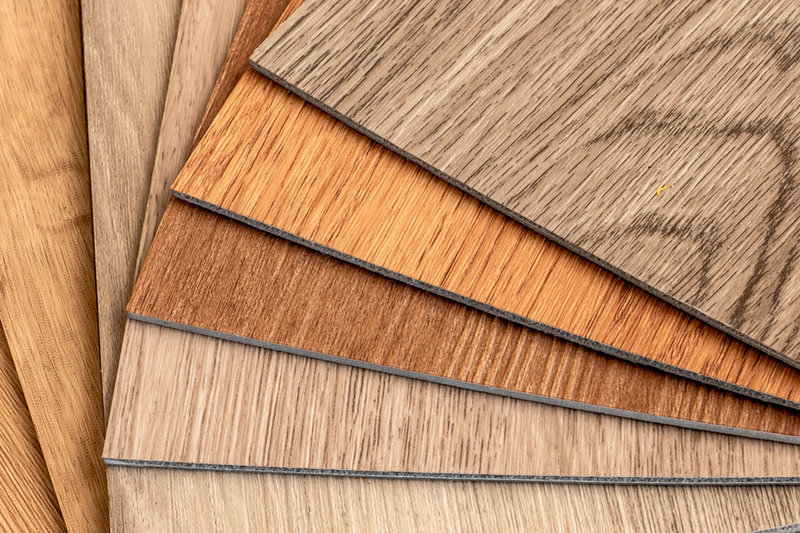 Luxury vinyl tile, or LVT, is one of the most popular materials in the flooring market and can be found in hotels around the world. A photographic film layer is used to imitate the aesthetics of hard surfaces like wood – providing high-end, durable designs that are more cost-effective than other materials. "It comes in endless designs, can be custom designed and custom-cut, is quick and easy to install and remove, generates low levels of impact sound and is increasingly being manufactured from recycled materials – all highly attractive selling points as far as professionals are concerned," according to specialist magazine Luxury Vinyl Trends.
Whether it's a carpet, LVT, or ceramics, eye-catching flooring designs can leave a long-lasting impression on a guest. As the website Hotel Designs puts it: "The days of blending into your surroundings are long gone. As tech improves, designers becoming braver and the designs become bolder".
Among notable recent trends are designs that use multiple colours and multiple materials in a single area, and striking patterns and shapes from zig zags to wide, elegant planks that add depth and drama to a space.
While certainly not a new trend, rugs and carpets remain a timeless, ubiquitous feature of most hotels and are popular with guests too. They offer warmth and comfort and a slice of home for many travellers and come in all kinds of shapes and sizes. Axminster carpets – traditional woven carpets often found in royal residences and stately homes – are particularly popular in luxury hotels due to the material's aesthetic qualities and long-term durability. Newer technologies such as high-definition printed carpets and software-based Computer Yarn Placement Technology carpets are meanwhile offering new options for hoteliers.
Hand-scraped flooring used to be the norm many moons ago. With no machines to sand-down and finish wood, responsibility fell on individual craftsman to shape each plank with their bare hands. The result was imperfect but also distinctly human: no two planks looked the same.
For hotels that want a warm, rustic, honest feel to their flooring, hand-scraped wood can offer something a bit different. "It's all about bringing the outdoors indoors, and welcoming imperfection, to reflect the natural, authentic beauty of the wood grain, while also making the surface look worn in," said Hotel Designs.
Cover image credit: Hilton Hotels and Resorts