ALUPRO FAÇADES MEET REVIT-MODELS
Our core values are on customer service and high-quality products. We want to make it easier for architects, construction firms and façade specialists to work by providing first-class REVIT models for our products. Using our REVIT models you will have a complete 3D simulation of the products how they will look like in the real environment.
"The more digitalization you can build into construction business, the easier and more effective it is. Creating and sharing REVIT models is our contribution to the digitalization which benefits the construction business", says Project Director Heikki Raumanni at Alupro.
You can freely down load our REVIT models of Alupro products. Our REVIT models will leave you more time to implement your visions and creativity to your project.
One of our latest projects is newly opened Helsinki Central Library Oodi where we installed architectural surfaces inside of Oodi. The products include different types of PS-P louvers, which were embedded into facades. Aluminum and stainless steel louvers were used under ceilings, walls and floors.
One of our wide range products is tube-assembled PS-P louver, which adaptability makes it suitable for many purposes. Blade type and spacing are chosen according to the application and louver solution is delivered either in parts or in prefabricated installed units. The most common application of louvers is used in inside and outside of surface structures. Those can be used in ventilated facades, in cladding of suspended ceilings, in protective walls and in space dividers. PS-P louvers are ideal for hiding technical systems and giving a visually harmonious and striking look to many kinds of facades.
The louvers can be made with or without frames depending on the intended application. Various profiles and spacing options allow for flexibility in design. Cylindrical louvers can be used for the veiling of curved surfaces. Curved louvers can also be installed in front of or around objects such as heat and water pipes, radiators and air holes.
Horizontal sun shade canopies prevent excessive solar heating and glare. Sun shade louvers help save energy by reducing the need for mechanical ventilation. Alupro louvers are attractive, durable and cost-effective solution for all kind of constructions.
REDI Shopping Centre, curved.
Aluminum façade solutions also for renovation projects
Aluminum façade solutions have untapped potential in renovation projects. Aluminum has many advantages in construction business: the surface of aluminum facade is maintenance-free and its life span can be even 100 years. "If you need make any changes below assembled aluminum façade, you can easily dismantle the façade and re-assembled it again", points out CEO Vesa Samela at Alupro. He continues, "Contractor firms want from suppliers prefabricated products which are easy and quick to assemble on site and our products are just ideal for new construction projects, but also for renovation projects." We are a reliable partner from your first inquiry to implementation whether you are an architect or a contractor.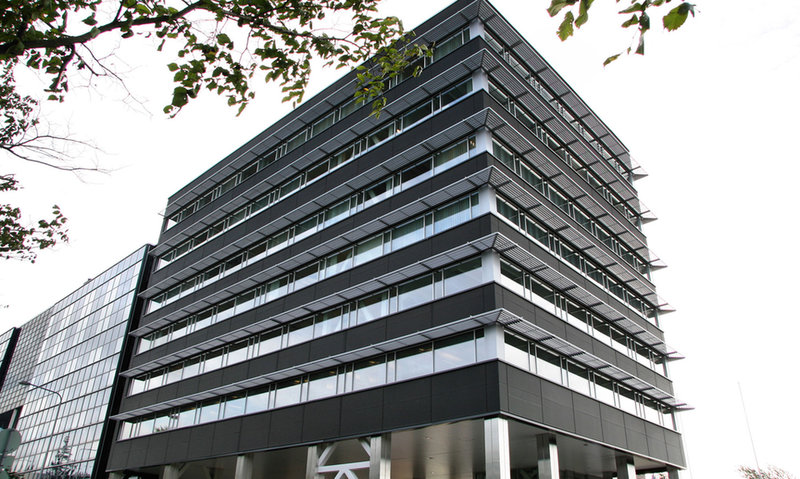 Alupro, Horizontal Sun shade canopy.
Alupro, Storm louver for air intake.
Our competence
is at your disposal!
Alupro Ltd.
Tel. +358 207 421 700