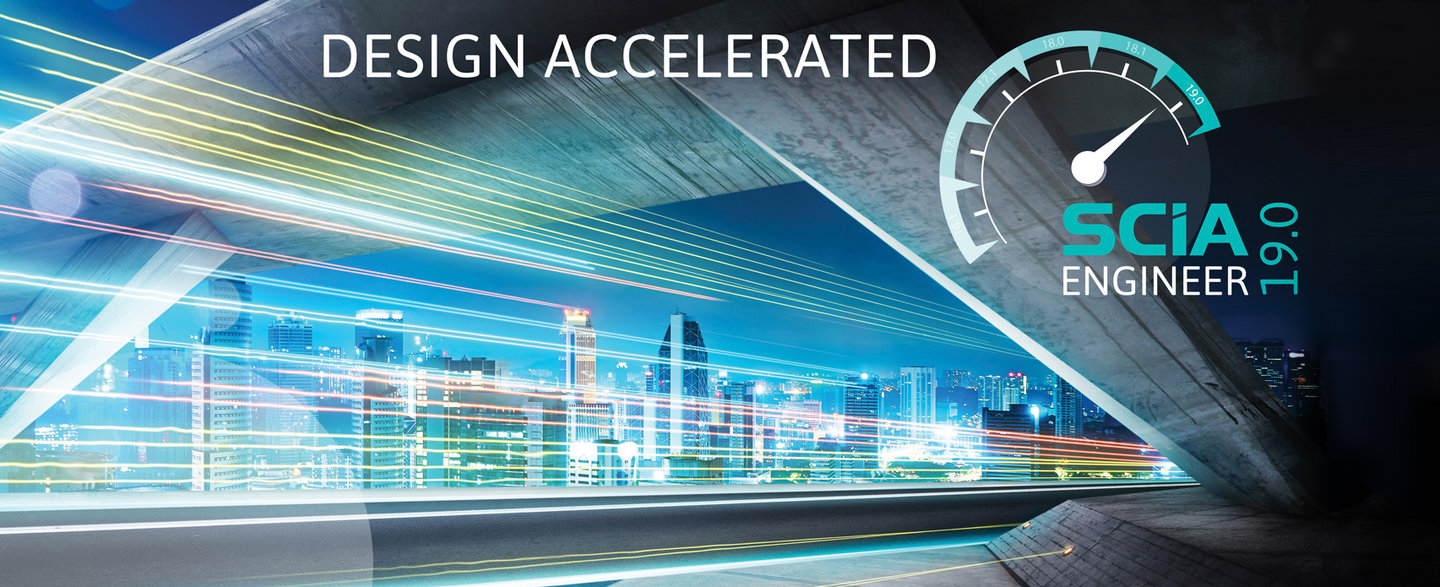 Reduce the time spent on your project with SCIA Engineer 19 that expands the array of possibilities for multi-storey buildings, streamlines workflows for various analysis types and increases the speed of basic operations.
SCIA Engineer 19 brings multiple workflow improvements as well as many new functionalities that will help you handle the analysis of multi-storey buildings and other civil engineering structures with minimum effort while simultaneously increasing the overall efficiency of standard day-to-day tasks.
With SCIA Engineer 19 you will deliver your projects faster thanks to (i) the design accelerated by automation in all the design modules, (ii) improved understanding of the response to applied loads and (iii) optimisation through parametric design and integration of SCIA Engineer into any tailored solution.
Deliver accurate, economical and clearly documented design with minimum effort thanks to new functions like automated design of practical reinforcement in concrete beams, enhanced optimisation for studs in composite floors, camber in design of steel members, etc.
Have full control over your structure and understand its response using analysis of masonry walls with contact elements, integration members for shear walls or bridges, absence for simulation of constructions stages, stiffness modifiers, extended display options for results, etc.
Move your work to a next level with the parametric design capabilities of SCIA Engineer. Take the advantage of the updated XML interface or a brand-new Open API to build your own solution to deliver the most economical, eye-pleasing variant of the project fast and with minimum of manual work.
Economical stud design taking into account building practice requirements
More robust AutoDesign thanks to improved handling of detailing conditions
Faster and more economical AutoDesign for beams with multiple web openings
Shorter, succinct standard output
Consistent references to applied code formulas in the detailed output
Improved handling of buckling lengths after model modification
Clearer dialogue for load case combinations
Automatic connection of all model elements before calculation
Fast and clear detection of instabilities in the model
Better control over formatting of tables in Engineering Report
Speed improvements in standard actions like open / save project, copy / move entities, work with results and checks on 2D members for extensive envelope combinations, open long Engineering Report, etc.
SCIA UK Office
5 Charter Point Way, Ashby Park,
LE65 1NF Ashby-de-la-Zouch
United Kingdom
Fast and practical design of shear reinforcement
Built-in templates for stirrup shapes for different cross-section types
Automatically considered effect of stirrups on longitudinal bars
Practical distribution of stirrups along the span using stirrup-zones
Optional symmetrical distribution along the span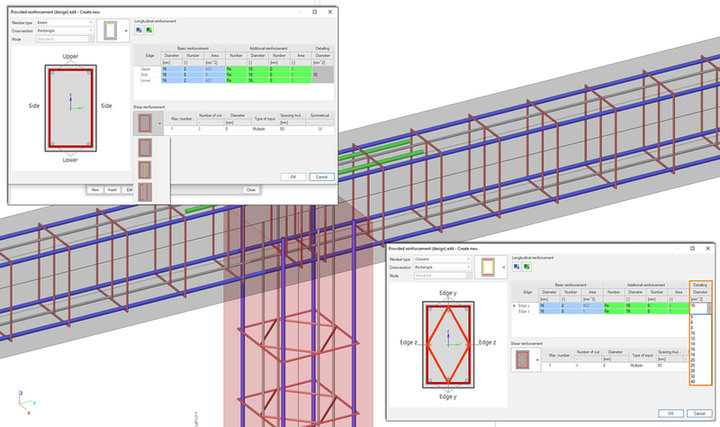 Practical design of reinforcement in columns, beams and ribs
New reinforcement template for columns with corners-only bars
Uniform distribution of longitudinal reinforcement along the length of the column
Uniform distribution of reinforcement in beams and ribs above supports
User-defined minimum length of the bars in beams and ribs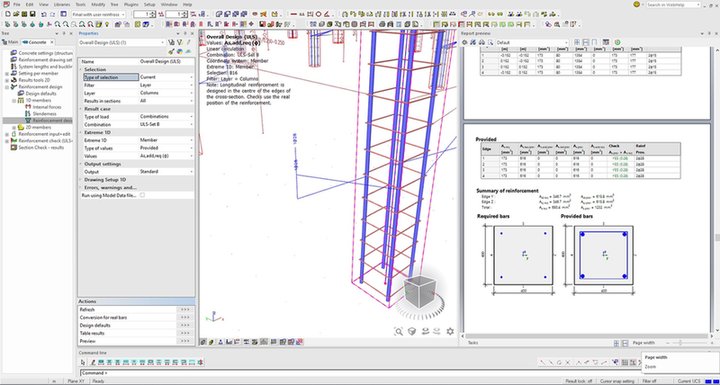 Automatic design of real reinforcement in 1D members
Automatic conversion of calculated reinforcement areas into real bars
Use of real reinforcement bars in all ULS/SLS checks and in the section check
Optional manual modification of the automatically generated reinforcement
Export of the converted reinforcement to IFC & XML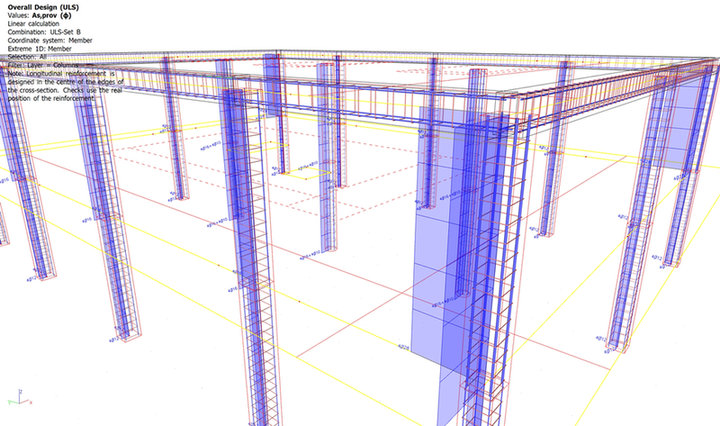 Real reinforcement in 2D members
Design of real bars and reinforcement meshes in 2D members
All types of reinforcement considered in checks as well as in the calculation of punching, cracks and long-term deflections
Export all types of reinforcement to ASF file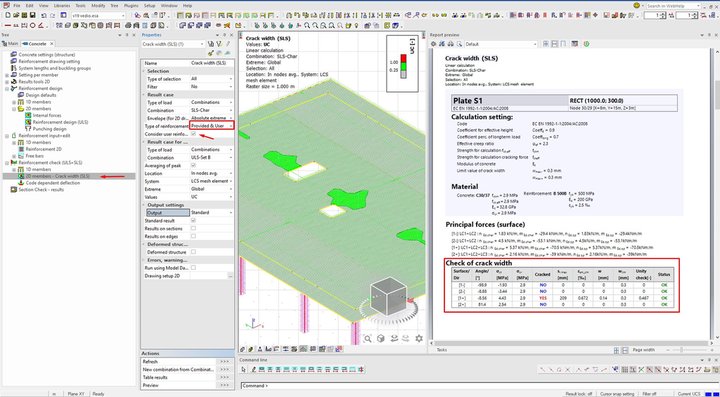 EN 1993 and SIA 263 supported
SLS check for permanent and variable loads in one go
Support for camber in design
Simplified input of design criteria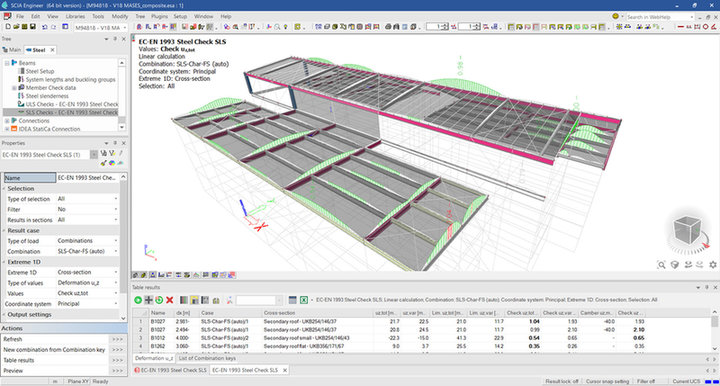 Calculation of plastic hinges updated for EN 1993-1-1
Determination of plastic hinge moment resistance taking into account the national-annex specified safety factors
Open checks now support paired cross-sections (double angles, back-to-back channels, etc.)
Plastic hinges available with 64-bit version
SIA 263 available in 64-bit version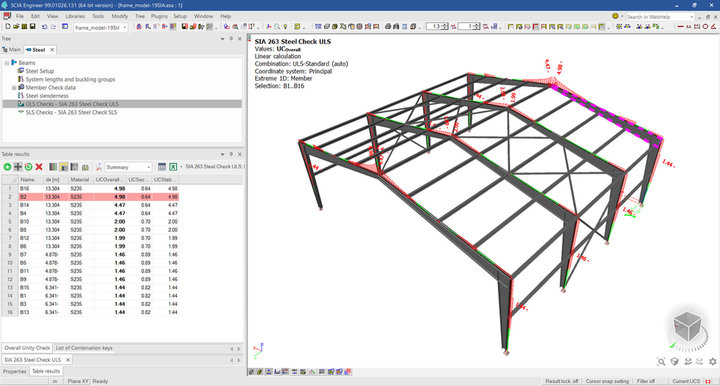 Streamlined workflow for linear analysis with masonry members
Simple editing of orthotropy parameters for reduction of arching effect
Advanced non-linear capabilities with compression only hinges on edges of a masonry wall
Contact elements for edges suitable also for other applications like cross-laminated timber, calculation of cracked/delaminated members, etc.

Integrates internal forces from defined perimeter, which is necessary for design of e.g. shear walls, etc.
Easy and straightforward definition of the "substitute" integration member
Integrates internal forces from 2D and 1D members
Applicable for linear as well as non-linear analysis
No impact on others results on the rest of the structure
Speeds up the response spectrum analysis while meeting the condition of 90% of moving masses
Reduces the number of required eigenmodes
Up to 10 times lower number of modes required
Significantly shortens the calculation time
Absences and stiffness modifier unified in one modification group
Attached to a specific load case(s)
Included in the standard project type (no special project required)
Suitable for e.g. simulation of construction phases, long-term response of structures due to varying E modulus, etc.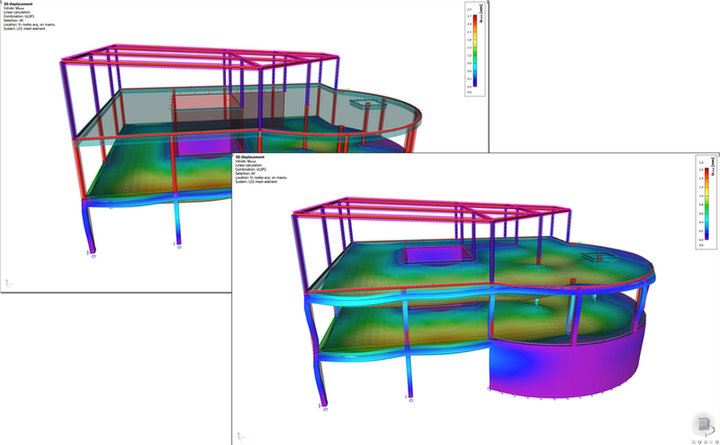 1D members:
Easy detection of critical points on multi-span beams

2D members:

Layers applicable to sections on 2D members
New selection options for sections
Resultant on sections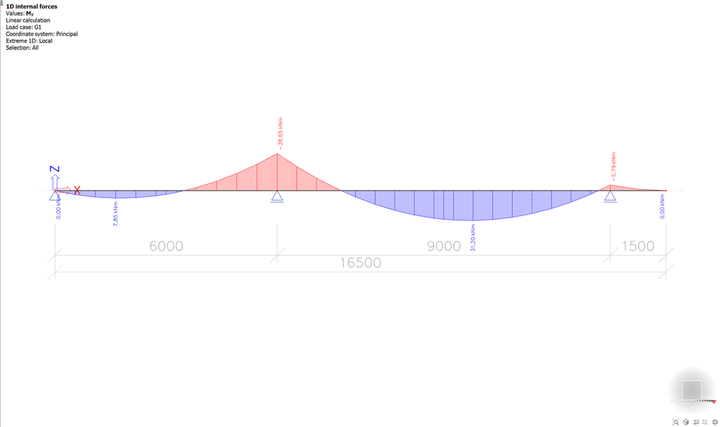 Support for creation of Engineering Report
Export of Engineering report into RTF, PDF, etc.
Update of a project using Excel file prepared in SAF format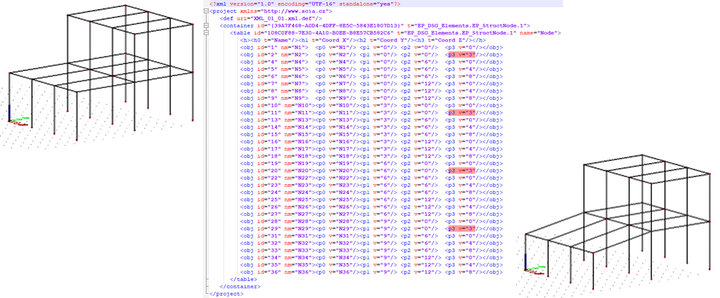 Easily connects SCIA Engineer to your solution
Supports many programming languages: C#, Python, VBA, ...
Provides functions to open SCIA Engineer project, define materials and cross-sections, create beams and slabs, define loads and other model data, run linear analysis and read the results
Supports non-linear and stability analysis via a template project