Construction industry M&As decline in Q1 2021 after surge in Q4 2020
Q1 2021 deal value is down by 36% quarter-on-quarter
Both deal volumes and values fell in Q1 2021, compared with Q4 2020, according to GlobalData's deals database.
The total volume of deals was 935 vs 1,101 deals in Q4 2020), while the total Q1 2021 deal value was US$96bn vs S$149.9bn in Q4 2020, a fall of 36%.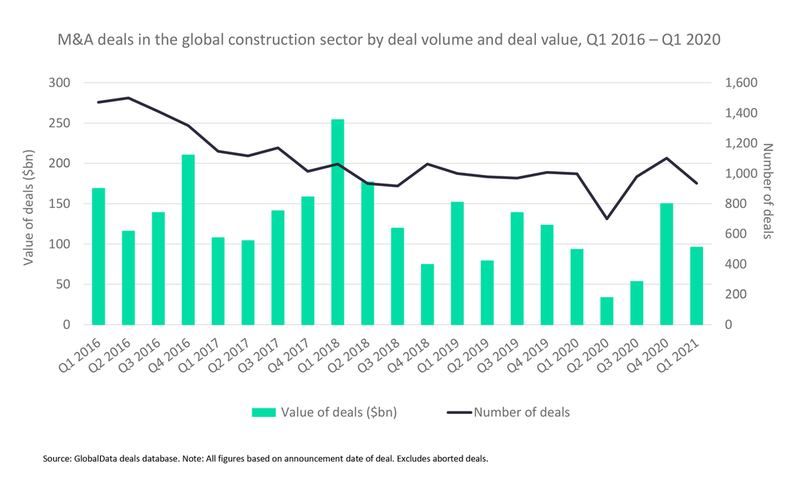 In a year-on-year comparison, however, deals recorded in Q1 2021 were up 3% on Q1 2020.
Last year, the pandemic impacted deal activity significantly in Q2 2020, making it the quarter with lowest deal size ($33.4bn) and deal volume (700) in the last five years. M&A activity surged again in Q4 2020 before declining in Q1 2021.
Regional M&A activity trends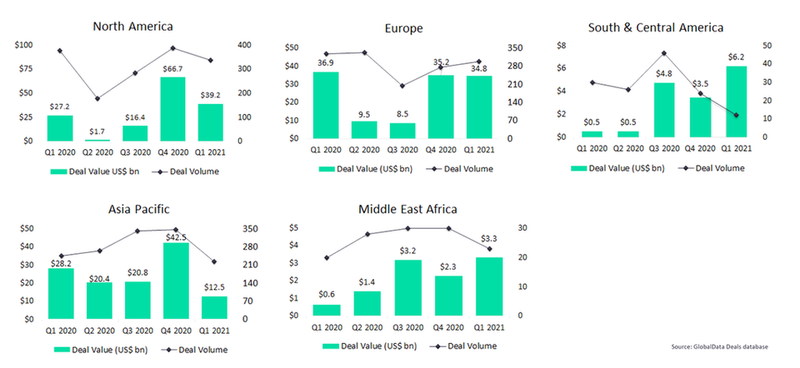 All regions except Europe reported a decline in deal volume in Q1 2021. Europe recorded a 10% quarter-on-quarter growth in deal volume, but value was down slightly by 1%.
Quarter-on-quarter, North America and Asia Pacific saw a decline in both deal volume and deal value. In North America, volume was done 13% and value was down 41.3%. In Asia Pacific, volume was down 36% and value was down 70.6%.

Both Middle East and Africa and South and Central America saw a decline in deal volume, but growth in deal value. In Middle East and Africa, volume declined by 23% but value grew by 47.6%. In South and Central America, volume was down 50% but value was up 78.8%.
While cross-border M&A deal volumes decreased by 7.7% in Q1 2021 compared to Q4 2020, cross-border deal values increased in Q1 2021 by 51.8% vs Q4 2020. A notable cross-border deal was Swiss multinational LafargeHolcim's acquisition of Firestone Building Products from Bridgestone Americas for US$3.4bn.
High-value deals continue to decline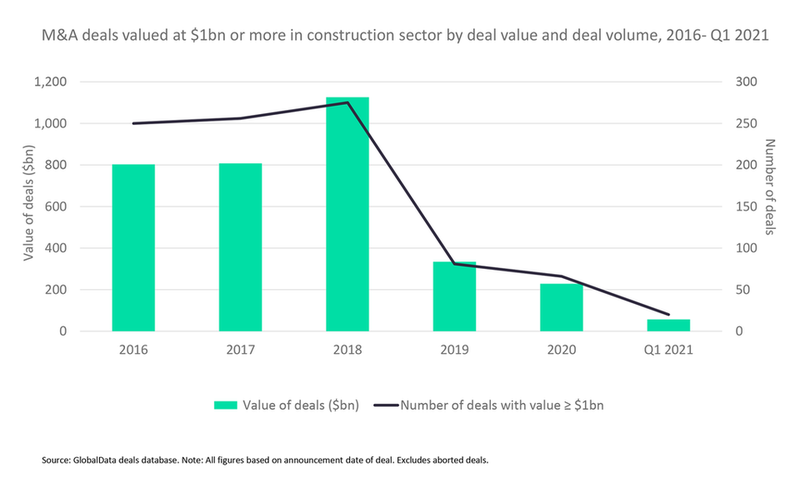 M&A deal value and volume in the construction sector peaked during 2018, with 275 deals of $1bn or more recorded. These had an aggregate deal value of $1,126bn, a record for the last five years.
The trend line for M&A activity shows a sharp decline in 2019 which continued during the ongoing pandemic. In 2020, the sector saw 66 billion-dollar deals with a combined value of $228.6bn.
In Q1 2021, 20 billion-dollar M&A deals were recorded with a total deal value of $56.9bn.
Key M&A deals in the construction sector in Q1 2021
| | | | |
| --- | --- | --- | --- |
| Month | Deal | Value | Theme(s) |
| March | Sacculus acquires Nordic Proptech Investment Services (35% stake) | $1.01bn | IoT, automated home, smart cities, sustainability |
| | Corem Property Group acquires Klovern | $2.32bn | Environment |
| | WeWork merges with BowX | $1.31bn | Future of work |
| February | Kaisa Group acquires Hong Da Development & Investment Holding | $2.02bn | China impact |
| | KPS Capital acquires Norsk Hydro (rolling division) | $1.72bn | Sustainability |
| | Autodesk acquires Innovyze | $1.01bn | AI, digital twins, sustainability |
| | Stone Point Capital; Insight Partners acquires CoreLogic | $6.06bn | Big data, data analytics |
| January | IFM; Ontario Teachers' acquires Brookfield Infrastructure | $2.22bn | Environment |
| | The Blackstone Group acquires Interior Logic Group | $1.62bn | Big data |
| | LafargeHolcim acquires Bridgestone Americas (Firestone Building Products Company) | $3.43bn | Environment |