Microsoft's Herzliya campus: designing a future-proof office
Microsoft recently opened a new campus in Herzliya, Israel, which the company says is 'designed with the evolution of work in mind'. Alex Love speaks to the project's lead architect, Vered Gindi, to find out what it tells us about current trends in office design.
T
he architects working on Microsoft's Herzliya campus in Israel – Gindi Studio and GSArch – wanted to create a place that employees would miss when they weren't there. Yet the team didn't know at the time quite how relevant their brief would become.
When plans for the building were drawn up four years ago, no-one had ever heard of Covid-19. By sheer coincidence, the architects were already thinking about flexible working spaces and more people working remotely, albeit on a much smaller scale than we may see in the wake of the pandemic.
The idea was to design flexible spaces. The spaces the new campus offers for teams and individuals can be customised to meet changing requirements of uses. Adjustable multi-purpose rooms can accommodate 100-150 people in three separate rooms or be turned into a combined space for larger gatherings. Desks that can easily be moved around are part of the design concept and will now offer the added benefit of allowing for physical distancing.
Covid-19 accelerates evolution of design concepts
This flexibility, which was designed into the building long before employers had to consider requirements such as distancing, reaffirms the view shared by many architects: that the coronavirus has accelerated design changes that were already in motion.
"We wanted to make sure that we designed it in a responsible way," says Vered Gindi, the project's lead architect and owner of Gindi Studio. "Because it's a big project, we wanted to make sure that it's going to last for many years, no matter how much work methods will change. We actually thought about people working more from home when we started building it four years ago.
"Of course, we didn't anticipate any pandemic. But we did think about traffic issues and the fact that it's harder to commute to work. And also, the idea that Microsoft will be able to equip people from the periphery. We did think people may want to work from home more and come to the office to connect or to meet."
Covering 46,000m2, the $105m building continues Microsoft's history of R&D operations in Israel that started in 1991. The Herzliya campus is the tech giant's largest base outside of Silicon Valley and Boston in the US. It has been designed to accommodate 2,000 employees.
Microsoft's new building in Israel is designed to designed to accommodate 2,000 employees in flexible office configurations.
Designed for flexible working
Gindi says that the first challenge was figuring out how to divide the site area in the smartest possible way to meet Microsoft's needs for the next 20 years. Another challenge was to design a building for Microsoft that blends in with the existing architecture and the region's history and is suitable for the local weather conditions.
"The second challenge was to bridge between Microsoft – the big brand, the big name, one of the most successful companies in the world, an American company – and the local culture," explains Gindi. "We wanted to bring the local culture to the front because we thought that's one of the assets. And one of the reasons why Microsoft would open an R&D centre in Israel was to use the local resources."
People within different generations – from seniors to generation X, to millennials – work in different ways
"The third thing was we really wanted to give people choices – a reason to come to the office and choose the way they want to work. People within different generations – from seniors to generation X, to millennials – work in different ways. They have different ways of thinking, different ways of working. They're used to different use of spaces.
"We wanted, within this building, to not build three typologies – like public meeting rooms in offices that are open-plan; we wanted to give a lot of these hybrid uses and a lot of choices.
"We wanted to give, say, 500 typologies of spaces and places. So that people who like to work in a vivid space with lots of people and a lot of buzz will be able to do this. And people who require quiet and are more sensitive to daylight will be able to get their quiet moments within the building."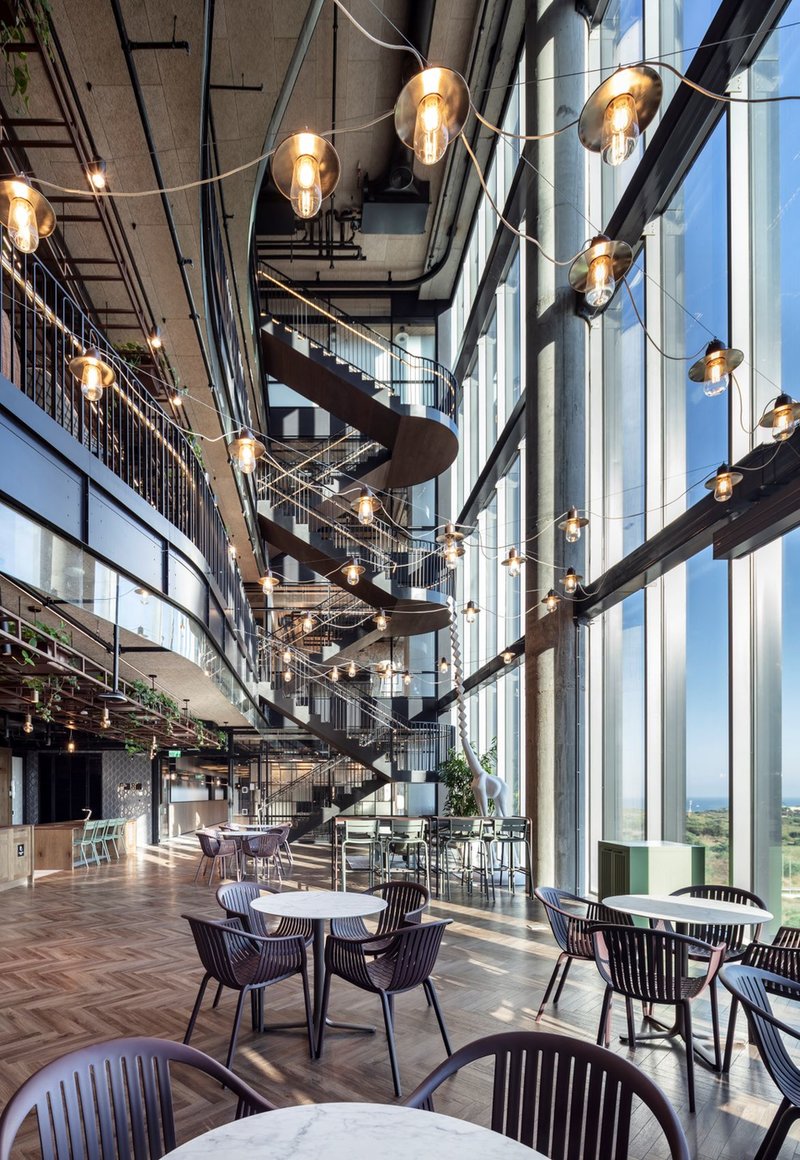 The building's floors are designed with different themes and styles in an effort to create interesting spaces employees will want to visit.
Creating a distinctive identity
The architects visited many of Microsoft's sites around the world as part of the research to inform the new campus design. In the US, these included Silicon Valley and Seattle, as well as the company's headquarters in Redmond, Washington. The team also visited Microsoft sites in Prague, Dublin and Milan.
What they noticed was that, while the exterior of the buildings varied, the interiors looked very similar.
Gindi explains that the aim was to create something with a distinctive visual identity that would set it apart from other Microsoft offices. Designs feature a lot of curvatures, flexible geometries and strip-like windows inspired by Bauhaus, a style of architecture particularly prominent in Israel, notably in Tel Aviv. Another aspect of the design were screens to help protect from the strong sunlight, which are a common feature in Middle Eastern buildings.
It's easy to orient yourself within because you know exactly which floor you are on according to the style, the colour scheme and the materials.
Perhaps the biggest departure from other Microsoft offices was thinking of the campus as a city, with each area having a distinctive identity and function. These visual differences make it a lot easier for staff to become familiar with the layout and navigate the building.
"In a floor plan, you have the main boulevard and you have all the meeting rooms and public areas and the boulevard meets these atrium sections along the way," Gindi explains.
"And then you have the private team-based neighbourhoods in the building. We divided the floor buildings into four themes. We had Downtown, Midtown, Garden and Uptown. Each was two floors and each has a different design style. So Downtown was more industrial. Midtown was more eclectic, almost like a Japanese pop art style. The Garden was outdoors, Uptown was more like a boutique hotel.
"People can choose which environment they want to work in. The building is very interesting in the interior. It's easy to orient yourself within because you know exactly which floor you are on according to the style, the colour scheme and the materials.
"It's all about coming to the office, but every day can be in a completely different space and a very interesting space."
The campus' garden area covers 3,500m2 and the site has a total 8,000m2 of outdoor space.
Creating a green and inclusive workplace
Microsoft's Herzliya campus has been designed for efficiency in both energy and water consumption. In fact, it is Israel's first building to achieve Leadership in Energy and Environmental Design (LEED) V4 Building Design and Construction Gold certification. Its designers also refer to it as Israel's most sustainable building.
A major challenge was designing a building that could manage the climate conditions. The site in Israel has virtually no rain for seven months of the year. Yet solving this issue was not as simple as installing multiple air-conditioning units, which could increase the site's carbon footprint.
The building has 800m2 of PV cells for harvesting solar energy, delivering enough power for the campus dining areas and external lighting. Walls around the building feature a double-skin facade with automatic blinds to protect from sunlight and prevent interiors from getting too hot.
A filtration system cleans the air indoors, as well as collecting and redistributing condensed water to cut the energy needs for cooling.
Atmospheric generators create drinking water by pulling moisture out of the air. This system is capable of producing 277,000 litres of water per annum. Furthermore, reusing condensate water from air-conditioning for irrigation can save around three million litres of water a year.
Workers have the option of using male, female or gender neutral-toilets.
Workers have access to leisure facilities such as a gym, a specially designed yoga room, and multi-use sports courts that can be used for basketball, badminton or five-a-side football. A variety of places to get food and drink is intended to provide something for everyone. The Garden area covers 3,500m2 and the site has a total 8,000m2 of outdoor space.
In addition, the building has been designed for inclusivity. Alongside wheelchair access, the disabled toilets feature adjustable sinks, and some kitchen worktops are at lower heights to accommodate workers with different needs. Workers have the option of using male, female or gender neutral-toilets. Signs around the building are in Braille, with audio systems available for people with hearing difficulties. The site also has a nursery, child playrooms and a special area for dogs.
"I'm very proud that we made a building that everybody can use. And it's part of accepting everybody, every single person in society," adds Gindi.
Main image: An interior view of Microsoft's new Herzliya campus. Credit (all images): Amit Geron