- ECONOMIC IMPACT -
Latest update: 6 April 2020
Many economists have cut their GDP forecasts. The 2020 consensus forecast for GDP growth is currently negative and many predict a recession.
Unemployment rates are expected to rise in all major economies. The International Labour Organization estimates 25 million job losses worldwide.
The OECD's forecast for global growth in 2020, with some consensus estimates being far lower.
Expected reduction in investments in the commodity-rich exporting nations, according to UNCTAD.
Impact of Covid-19 on asset prices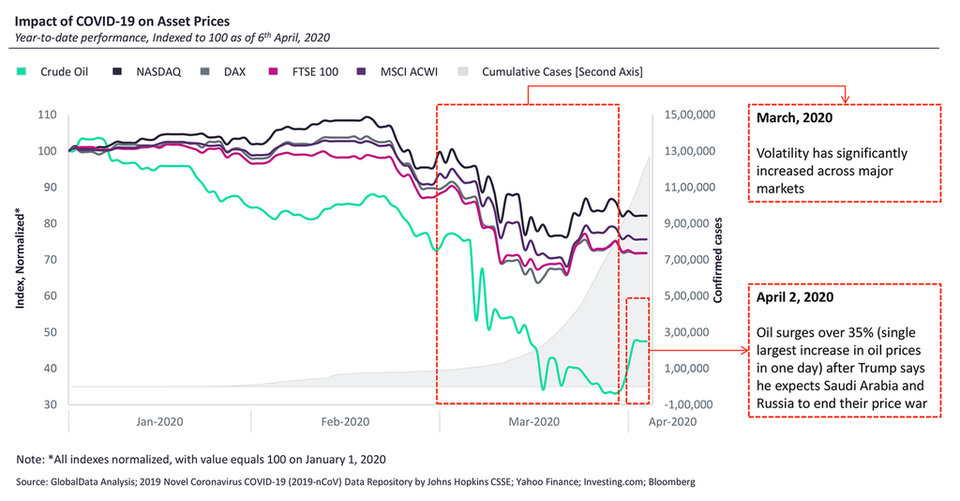 - SECTOR IMPACT: CONSTRUCTION -
Forecast revision for 2020 global construction output growth
GlobalData predicts that global construction output growth in 2020 will be just 0.5%, a sharp downward revision compared to the Q4 2019 forecast of 3.1%.
Across Western Europe, GlobalData now predicts that construction output will decrease by 1.9% while in North America output is expected to drop by 1.0%. Further downward revisions to these forecasts are likely in the event of prolonged lockdowns or stricter enforcement.
Impact on projects and businesses