ARCHITECTURE
TECU®, the brand name redefining copper for applications in roofing and cladding offers a combination of high quality product and comprehensive service. When architects require buildings with LEED, BREEAM or DGNB certificates, which are increasingly in demand for public buildings, TECU® Ecological Copper complies in all properties with materials made of new metals and surpasses all requirements of the European standard EN 1172. The striking natural surfaces in copper and copper alloys allow for singular design, leaving plenty of opportunities for creativity. Prefabricated system elements offer a wide range of solutions, from free-form designs to the simple and economic cladding of larger areas. Once in place, TECU® durable products come to life and become even more beautiful over time.
SERVICE
TECU® stands for the combination of high quality and comprehensive service. As one of the worldwide leading producers of copper and copper alloy semis, KME with its application-related consultation services provides supports for planners, architects and installers, even beyond the European borders.
TECU® INSTALLATION
TECU® STANDING-SEAM SYSTEM
The use of angle standing seams and batten cap cladding is an ideal solution for custom designed free forms as well as for traditional roof and façade constructions. TECU® products for these types of cladding are available in sheets and strips.
Besides their special aesthetic qualities, TECU® System Shingles offer decisive economic advantages in façade design. Cladding elements are laid simply by hanging them and interlocking them with each other.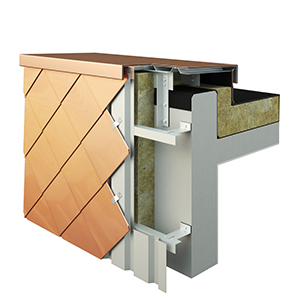 TECU® Panels are two-sided cladding elements, with or without an end base, depending on the construction. Individual lengths are as long as 4,000 mm with a standard width of up to approx. 500mm. Assembly at the building site is performed according to the tongue and groove principle or by overlapping.
TECU® Cassettes are cladding elements with folded edges on all sides available in a range of geometrical proportions from 1:1 to 1:4. They are exclusively pre-profiled to the customer specifications and/or according to suggestions made by the architect.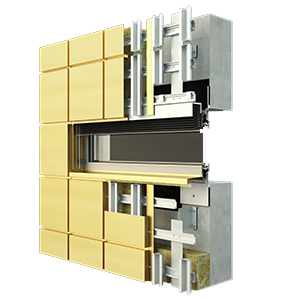 GREEN BUILDING
MATERIALS MADE FROM COPPER AND COPPER ALLOYS ARE REGENERATIVE NATURAL PRODUCTS AND RECYCABLE WITHOUT ANY LOSS OF QUALITY.
TECU® products for external cladding and roofing of buildings are manufactured exclusively from copper and copper alloys. Thus, the idea of sustainability is "in their very nature". Another decisive advantage is the certification as an environmentally friendly building product in accordance with ISO 14025 and EN 15804.
All TECU® Classic, TECU® Oxid and TECU® Patina products are entirely made from 100% recycled material! This substantial material benefit is an important argument for modern architecture, especially for buildings requiring a LEED, BREEAM or DGNB certificate. TECU® Ecological Copper complies in all properties with materials made of new metals and surpasses all requirements of the European standard EN 1172.

CONTACT
KME UK
Architectural Solutions
Severn House, Prescott Drive
Warndon Business Park
WORCESTER
WR4 9NE
UNITED KINGDOM
Tel +44 19 05 75 18 14
Fax +44 19 05 75 18 01
info-tecu-uk@kme.com