Fabric
SEFAR® Architecture
VISION PR 260/55 Red
© Varabyeu Partners
about SEFAR® Architecture VISION
SEFAR®Architecture VISION is a range of high-precision fabrics, made from synthetic black monofilament yarn with thread diameters of 140 or 260 µm, metal-coated, at least on one side and optionally printed.

The so called one-way-vision effect is obviously the main aspect of the product. It provides an exceptional range of design possibilities on the outer face of the glass pane, on the basis of a unique, exciting and lively 3-D appearance - and still with a clear view from the inside to the outside.
Inside to outside view:
There is no show-through of the color on the outside to the inside
Fabric
SEFAR® Architecture
VISION PR 260/55 Red on the outside
© Varabyeu Partners
Application of SEFAR® Architecture VISION fabric
VISION fabric is part of a glass laminate covered in-between two panes of glass and two interlayer foils*, fully embedded and protected towards environmental influences. Applicable for flat, as well as for curved glass.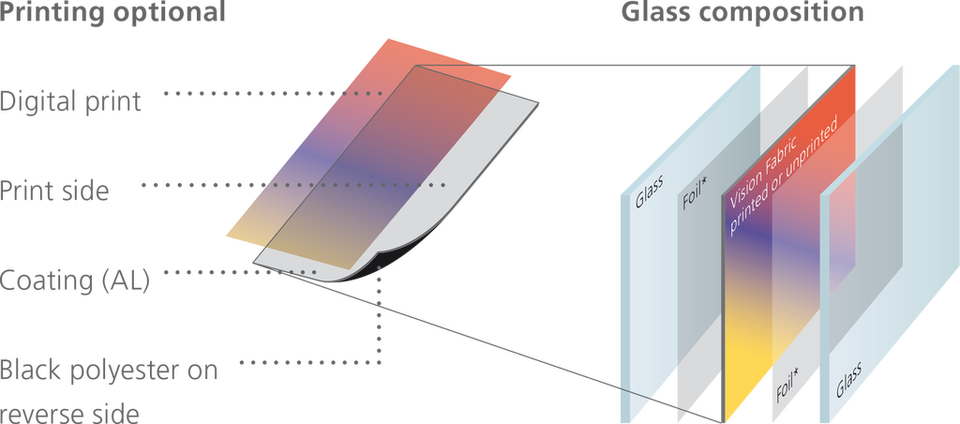 * Recommended interlayer foil: SentryGlas® from Kuraray
Production of SEFAR® Architecture VISION fabric at Sefar
Sefar owns the quality driven product responsibility from production of the yarn to the finished product provided to one of our certified global glass processing partners. VISION fabric is tested in accordance to international standards for laminated - and laminated safety glass.

The VISION product range: Anything but a standard range
The basis of the product range are four different mesh types, Aluminum coated on one face and optionally printed in Copper or Gold.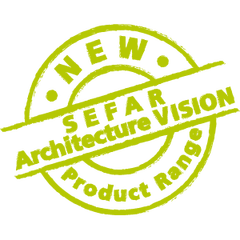 SEFAR® Architecture VISION fabric | Product range
Aluminium (AL, standard)
Chrome (CR)
Titanium (TI)
Product labeling
Metal coating (AL = Aluminium)
Sefar provides color cards with defined color ideas
Any RAL or Pantone® color possible
15 years warranty against color fading
Any RAL or Pantone®color possible
In addition to the one side coating and printing, both sides can be coated and printed (e.g. for glass-fins or -louver, glass partition walls), even with different colors or designs, without any show-through on the reverse side.

By means of digital printing, the coated fabric sides can further be individualized with individual designs or any individual color.
© Colt International GmbH (DE)
SEFAR® Architecture VISION functionality and benefits
Energy transmission in laminated glass in combination with VISION fabric

The fabric's open area determines the degree of energy transmission and transparency. In addition, the metal coating and color is also instrumental for the reduction of energy transmission.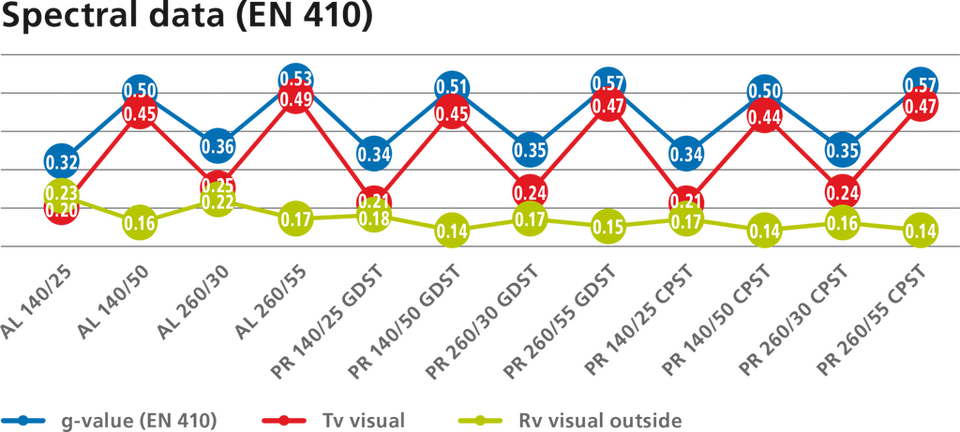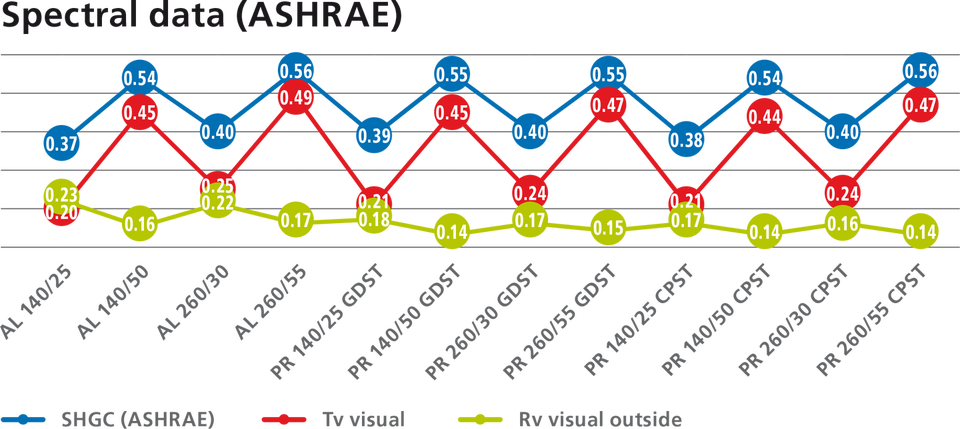 World Trade Center 3 Lobby
© VAN ROEY® Colt International GmbH (DE)
Benefits
Reduction of SHGC/g-value
Providing Shading
Glare protection
Bird strike protection
One-way-vision effect
Privacy
Lively 3-D appearance
Design, creativity & function
Active safety due to laminated glass
Patented product
Exterior and interior applications
Facade
Glass canopies
Glass skylights
Glass fins
Glass louvers
Balustrades
Privacy sections
Wall panels and gladdings
Glass partition walls
Contact us
Sefar AG
Töberstrasse 4
9425 Thal
Switzerland
Phone +41 71 898 57 00