3D GLASS PRESS GLASS TECHNOLOGY
WHAT IS
THE GREAT ARCHITECTURE
ALL ABOUT?
It is freedom. Freedom to shape bold visions. Freedom to find a language to articulate them in every dimension.
Great architecture is the freedom to form. To form in your mind and soul. In the building materials. Freedom to form in the glass.
OUR REVOLUTIONARY ANSWER.
Introducing 3D GLASS - a revolutionary, patented technology bringing you vaster than ever possibilities to shape three-dimensional, smoothly changing glass surfaces and façades.
Thermally formed 3D GLASS fills the market gap of complex architectural glass forms built with geometrically varied elements.
NOW YOUR VISION BECOMES REALITY
IN GLASS.
Glass surfaces and building façades may now be constructed with uniquely shaped glass panes – easier and faster than ever!
For lightweight looking and sophistically shaped constructions.
For modern curvilinear visions and parametric architecture.
For your braver, bolder, uncompromised vision!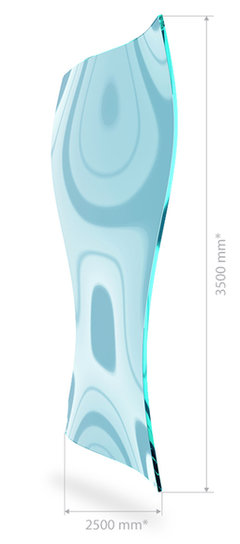 GET INSPIRED WITH NEW GLASS SHAPING POSSIBILITIES.
ADD THE THIRD DIMENSION TO THE GLAZING IN YOUR DESIGNS!

BETTER ACOUSTIC INSULATION.
Irregular and curvilinear surface of façades using 3D glass improves acoustic insulation of a building owing to more effective dispersion of acoustic waves as compared to flat surfaces. The effect can be strengthened when 3D glass is used as the "second skin". The degree of acoustic insulation improvement depends on the designed shape of the glass.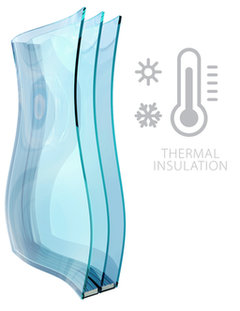 IMPROVED THERMAL INSULATION FOR SUSTAINABLE BUILDINGS.
3D GLASS contributes to the sustainability of high constructions in regarding to the both A/C and heating. Possibility of using single or laminated glass panes with the newest high selective coatings and connecting them with spacer bars, allow us to offer energy efficient double or triple glazed units. Thus greatly improving indoor environment quality of buildings by reducing heat losses and limiting sun penetration.
Well-designed shapes together with the process of chemical strengthening greatly improves rigidity of glass and hence its ability to transfer i.a. wind loads.
3D GLASS panes can be laminated with one another using PVB foil, making them safe for the users. If a glass pane ever gets broken, it remains in its position due to integration with the foil.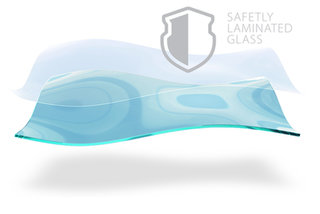 3D GLASS panes can be equipped with glass holders (point clamps). It facilitates fixing a glass pane to the internal bearing structure of the façade or between the proper façade and the "second skin".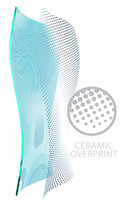 AESTHETIC APPEARANCE, PRIVACY AND GOOD LIGHTING IN THE ROOMS
It is possible to print individual designs on 3D GLASS to get even better look of buildings, make glazed rooms more intimate or additionally control the amount of light penetrating into the rooms.
PRESS GLASS, from the date of its creation, has been driven by a clear vision: "building a modern, dynamic and globally active company that contributes to the development, and strengthening the competitiveness, of its business partners by meeting their individual expectations." As time shows it has driven PRESS GLASS to nowadays market position described as Europe's largest independent flat glass processing operation.
Currently company's production exceeds 7 million m2 of glass units p.a. To produce all its products PRESS GLASS uses more than 16 million m2 of basis glass. So far company has produced over 60.000.000 m2 of glass units for fabricators of windows & doors, facades, interior glass constructions, solar and photovoltaic panels, constructions with single tempered glass used in large volumes. Company operates in 12 factories in Europe and in North America. Its factories are located in the UK, Poland, Croatia and in the United States. On global market company offers its products under the PRESS GLASS brand, as well as for the United Kingdom residential market under the GLASS SYSTEMS brand.
Currently company cooperates with some hundreds of regular customers across Europe and other continents, still searching and spreading Business Partners network.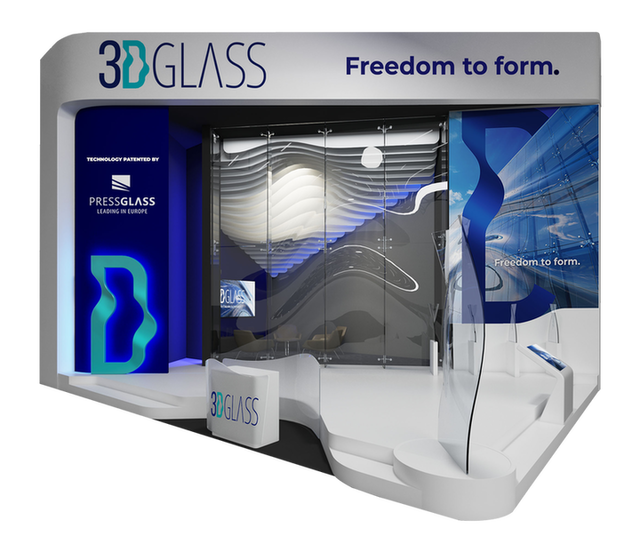 During BAU 2019 Fairs in January (München, Germany):

HALL C3, Stand-No. 414
In our head office:
PRESS GLASS SA
Nowa Wieś,
ul. Kopalniana 9
42-262 Poczesna
Poland

P +48 34 327 50 69
E 3dglass@pressglass.com