- ECONOMIC IMPACT -
Latest update: 28 July 2020
Many economists have cut their GDP forecasts; 2020 consensus forecast for world GDP growth is -4%, with a recession expected.
Worldwide unemployment continues to rise. Unemployment rate in the Eurozone stood at 7.4% with 12.15 million unemployed in May.
Fitch Ratings forecasts that Eurozone GDP will contract by 8% in 2020.
EY predicts the UK economy will take until 2024 to fully recover from the economic impact.
Impact of Covid-19 on hiring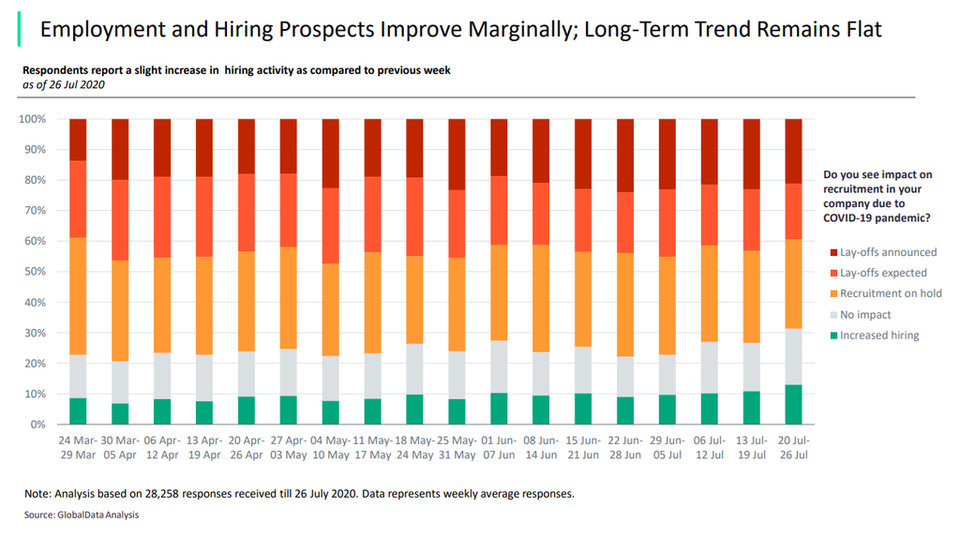 - SECTOR IMPACT: CONSTRUCTION -
Latest update: 29 July 2020
Forecast revision for 2020 global construction output growth
GlobalData predicts that global construction output will contract by 3.2% in 2020, a sharp downward revision compared to the forecast increase of 3.1% pre-Covid-19.
Across Western Europe, GlobalData now predicts that construction output will decrease by 8.1% while in North America output is expected to drop by 6.6%.. In the event that lockdown measures are maintained or re-imposed, further downward revisions to the growth outlook are likely.
Supply chain and demand disruption