Built by Nature: scaling up timber construction
The newly launched Built by Nature network offers grants to pioneering projects addressing barriers to building with timber. Frances Marcellin speaks to Jeff Blaylock, Built by Nature's head of networks, about scaling up timber construction in Europe.
B
uildings generate nearly 40% of CO2 emissions each year and yet, problematically, global building stock is set to double by 2050. To operate at net zero carbon by 2050, so that the Earth's temperature stays below 2°C as per the Paris Agreement, an immense change is required – but how should the construction industry progress?
This is where Built by Nature (BbN) comes in. Backed by the Laudes Foundation, the new network aims to bring together developers, designers and investors to scale up timber construction in an effort to catalyse the decarbonisation of the built environment through the use of timber-based materials.
Future cities: from carbon sources to carbon sinks
"Timber has the lowest amount of embodied carbon of any mainstream building materials due to its natural property of sequestering and storing carbon during growth phase," says Jeff Blaylock, Built by Nature's head of networks. "By accelerating the uptake of timber in the built environment, we can begin to imagine our cities turning from carbon sources into carbon sinks – storing more carbon than they emit."
The organisation has an active network of industry partners, which it calls 'frontrunners', who will help to steer their vision from rhetoric to reality. They include engineering firm Arup, real estate developers Lendlease, Waugh Thistleton Architects, Rhomberg Corp, the European Forest Institute, the Carbon Neutral Cities Alliance, Bauhaus Earth, Cities4Forests and Climate-KIC.
It will also manage a multi-million-euro fund to accelerate timber-building transformation across Europe. Grants of between €50,000-€250,000 will be allocated to selected projects that address the barriers to building with timber.
But what role can timber truly play in construction and what obstacles might prevent its widespread use?
The role of timber in construction
Blaylock says that Built by Nature doesn't envisage a future built environment made exclusively from timber, but low-carbon hybrid solutions. He says that the last two decades have shown an upsurge in timber adoption through the invention of large-scale, industrialised timber products such as cross laminated timber and laminated veneer lumber.
"New engineering methods have radically improved the versatility and performance of timber buildings materials, meaning we can build more easily and quickly at scale," he says, pointing to examples of multi-storey buildings made predominantly from wood in Europe. These include the Hotel Jakarta in Amsterdam, the hybrid timber-concrete, 24-floor Hoho Wien in Vienna and the 85.4m tall Mjøstårnet in Norway, the world's largest timber building.
The reuse of existing buildings, reduction of materials and the sequestering of carbon are key to achieving the net zero target. Timber as a raw material is readily available and is ideal for prefabrication, so in terms of its full lifecycle, timber can be assembled faster and needs less transport than other materials, resulting in fewer carbon emissions overall.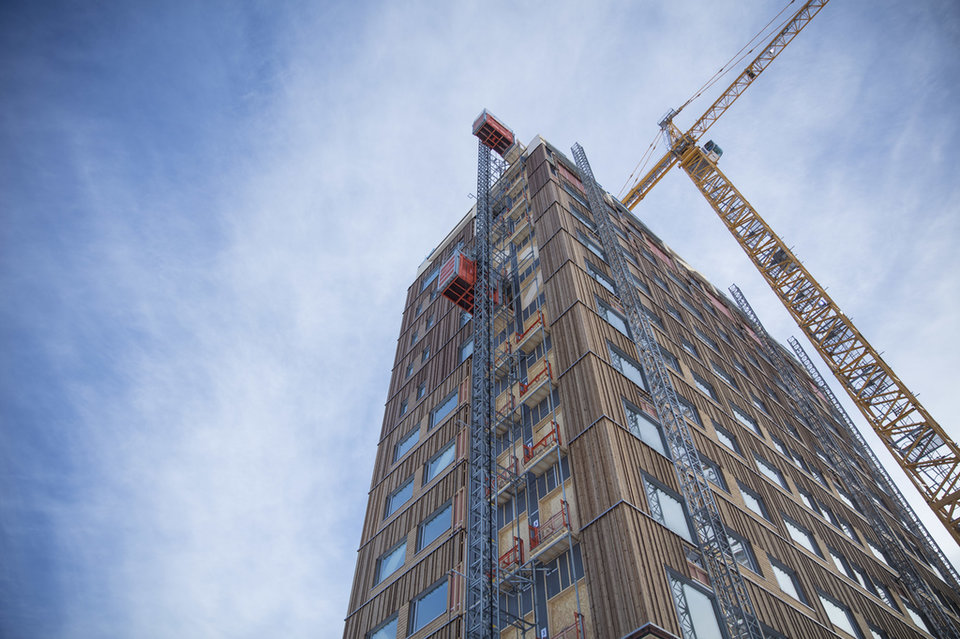 The Mjøstårnet in Norway during construction. Credit: Moelven
At Built by Nature's launch event, Marc Palahi, director of the European Forest Institute (EFI), said that "using wood is one of the most cost-effective ways to remove carbon dioxide from the atmosphere and store it for long periods of time". He sees wood and forests as the backbone of 'biocities', which are 'climate smart cities'.
But is this sustainable? Data from the EFI reveals that sustainable forest management has enabled an increase in wood harvesting of 200 million cubic metres between 1990 and 2018. Under the European Green Deal, Europe has pledged to plant three billion additional trees in the EU by 2030, which will double the forest expansion rate in the EU over the period 2005-2020.
In terms of scaling up, Blaylock says that 38% of the European surface is covered with forests, but has been increasing by 0.75 m hectares per year (more than one million football pitches) since 2000. "More than half of these forests are PEFC and/or FSC certified – European forests are sufficiently resourced to cater for a large-scale transition to mass timber building," he says.
During a panel discussion at Built by Nature's launch, Professor Hans Joachim Schellnhuber of Bauhaus Earth talked about his vision for a 'forest construction pump'. "Let's reforest degraded areas that will suck up CO2 from the atmosphere, but let's not do it just once," he said, explaining that once the trees are used for timber construction then trees can be replanted and the system repeat itself. "If we do it four or five times in a century, we can almost purify the atmosphere from carbon," he said.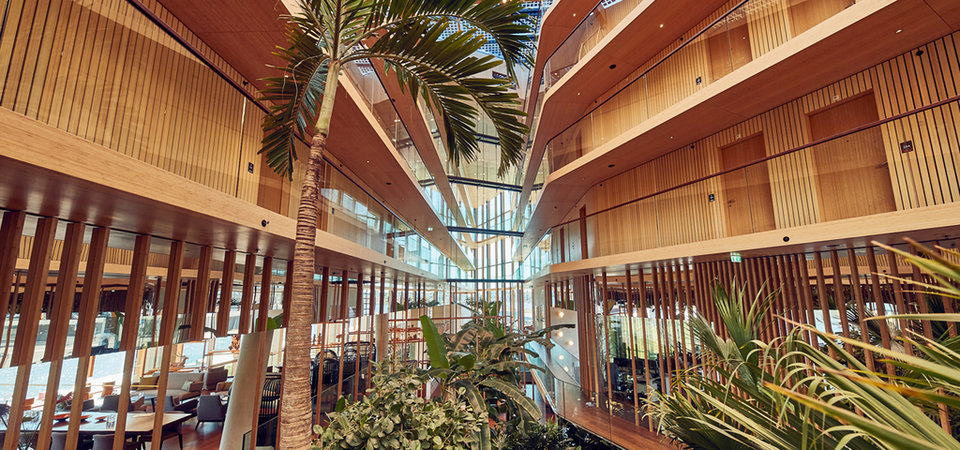 The Hotel Jakarta in Amsterdam is an energy neutral and BREEAM Excellent certified building. Credit: Hotel Jakarta
Countering misconceptions
During the launch's panel discussion, Hubert Rhomberg, CEO of construction engineering company Rhomberg, said that it is "not just about changing the material, it's about changing the process".
Built by Nature explains that the loop needs to be closed between the demand and supply by transforming the entire timber industry, "from forest management to end-of-life re-use, including re-thinking timber insurance, finance and engineering in between".
"We must re-build this link between forests and buildings to create an effective and transparent supply chain," Blaylock adds.
Kirsten Dunlop, CEO of Climate-KIC, said that 'failure of imagination' is one of the biggest barriers, which Blaylock interprets as misconceptions about timber that need to be overcome because they then lead to barriers. "For example, insurance risk premiums frequently reflect a risk in timber buildings that doesn't exist, making them more expensive, and there are also a number of myths about the fire performance of timber," he explains.
Part of Built by Nature's mission is to counter these misconceptions. Blaylock says that one aspect of Built by Nature's work will be to fund projects that provide evidence of the performance and benefits of timber construction.
The UK's Net Zero strategy highlights that timber has the lowest embodied carbon of any mainstream building material.
One of the organisation's first projects is the New Model Building by Waugh Thistleton Architects. "It sets out design principles that showcase an exemplar methodology for building residential developments using engineered timber," Blaylock explains.
The building is being developed in collaboration with expert fire engineers at University College London and, once built, will be open-source so that other developers can use it as a blueprint. This will allow building companies to use timber more easily in their constructions.
Dunlop also identified policy as problematic. As an example, Blaylock points to London Mayor Sadiq Kahn's ban on timber being used in external walls above 18 metres developed with Greater London Authority funding.
"Promisingly, the UK's Net Zero strategy highlights that timber has the lowest embodied carbon of any mainstream building material and sets out an ambition for a clear policy roadmap to increase the use of timber in construction," he says
Other misconceptions include prevailing assumptions that timber doesn't perform as well as concrete and steel, which Blaylock says is not true. "Engineered timber meets – and in some cases exceeds – the performance of high-carbon manmade materials like concrete and steel," he says.
Timber features extensively in the Hotel Jakarta's interior. Credit: Hotel Jakarta
The need for new business models
At the launch of Built by Nature, Arup director Eva Hinkers talked about the need for new business models "which shift from linear to circular, allowing for the reuse and regeneration of precious materials".
As timber construction is regenerative, Built by Nature believes that we need to create business models that are built on the regenerative property of timber and the design principles of the circular economy.
Blaylock explains that they are already working with partners on this issue, including the Carbon Neutral Cities Alliance, which comprises 17 cities with the ambitious goal of cutting greenhouses gases by 80% or more by 2050. "As part of this programme, all of Amsterdam's invitations to tender in the built environment will have to be fully circular in 2023, as well as all renovations by 2025," he says.
With several projects underway, Built by Nature will seek to fund those that 'quantify and compare timber-based vs traditional buildings' as well as 'policy proposals that create incentives, or remove disincentives, for sustainable timber buildings'.
"We must reduce the embodied carbon in our building materials if we are to decarbonise the built environment in line with internationally agreed targets," says Blaylock, adding that while clean concrete and steel are a viable route, they are still some years away from being commercially possible.
"Timber is in ready supply and is available to use now – the need to accelerate its uptake is a critical path to decarbonising the built environment over the next decade."
Main image: The 85.4m tall Mjøstårnet in Norway is the world's largest timber building. Credit: Moelven