Is estate regeneration a solution to London's housing crisis?
A report from Lichfields highlights he potential of estate regeneration in tackling London's shortage of affordable and social housing. Luke Christou spoke to the report authors to find out more.
D
ecades of undersupply has left London far short of the number of affordable and social properties required to accommodate its residents. Between 1997 and 2016, the capital's population grew by 1.6 million, or 40%. Yet, in the same period, just 470,000 new homes were built, adding just 15% to the housing stock, according to the London Housing Strategy.
Government data shows there were 42,000 new completions in London in 2019/20, while the new London Plan has set a loftier target of 52,000 new homes per year. Yet, research from the London Housing Directors Group (LHDG) and London's largest housing associations suggests upwards of 90,000 new properties are required each year to meet demand and improve affordability, suggesting there is still a long way to go to ease the crisis.
An opportunity to increase London's housing stock
Regenerating London's housing estates could ease the capital's housing shortage, according to planning and development consultancy Lichfields. In its new report, 'Great Estates: Planning for Estate Regeneration in London', analysis of 200 major projects showed that such projects are already set to deliver over 90,000 new homes.
Estate regeneration projects already underway are set to increase housing stock on these sites by 151%, with 48% of these new homes meeting the affordable housing criteria. These projects show the scale of the opportunity, but the potential housing that a large-scale approach could deliver is far greater. The study only included developments that had obtained planning permission and didn't capture projects that are in the pre-application or concept stage.
There's a huge need for housing in London and pressure on local authorities to identify locations for housing.
Current projects tend to be clustered in areas such as Inner East and Inner South London. While more than 5,000 new homes are set to be built on housing estates in boroughs such as Tower Hamlets and Lambeth, current projects are set to deliver less than 250 new homes in areas such as Bromley and Hillingdon.
While, in some cases, the lack of regeneration taking place is due to fewer residential estates, political ambition and a lack of policy focus on estate regeneration is often to blame, the report states.
In areas such as Richmond, the report notes, few or no estate regeneration projects have been approved. It is estimated the borough needs approximately 900 new homes per year until 2033 to meet current demand, but is held back by high land values and limited sites to build on.
"There's a huge need for housing in London and pressure on local authorities to identify locations for housing," explains Clare Catherall, associate director at Lichfields and co-author of the report. "These sites in urban locations with good transport links are prime opportunities for optimisation, so they fit the bill very well and can help to meet that overall housing need."
Clare Catherall, associate director at Lichfields
Pippa Nissen, director of Nissen Richards Studio
Ben Kelway, senior director at Lichfields
The social case for large-scale estate regeneration
The case for estate regeneration in the capital goes beyond increasing housing stock. Many of London's estates, developed in the wake of World War II, were built quickly, designed poorly, and made from cheap, low-quality materials. Following years of underinvestment, many of these developments are now in a state of disrepair.
"The housing stock itself is tired and has often suffered from underinvestment," says Ben Kelway, Senior Director at Lichfields' London office and co-author of the report. "So, a lot of people across London are living in substandard housing."
Likewise, these estates often make inefficient use of the space they occupy, Kelway says. Yet, effective estate regeneration isn't a matter of maximising the number of units, but rather matching the new housing stock to the needs of its residents. Those in overcrowded units may be offered bigger homes, while those households that have shrunk may be accommodated in smaller dwellings.
There's an opportunity, through regeneration, to improve housing stock and improve the lives of those living on these estates.
"There's an opportunity, through regeneration, to improve housing stock and improve the lives of those living on these estates, but at the same time deliver lots of new, better quality homes," Kelway adds.
As well as improving housing, estate regeneration also offers an opportunity to enhance the public realm: another key objective of the London Plan.
Many of the estate regeneration projects underway include the addition of services and facilities that will benefit the local community, such as schools, healthcare and play spaces.
For instance, the redeveloped Alma Estate in Enfield will provide 71,000 square feet of new community spaces alongside 1,000 new homes. With developers Countryside Properties and Enfield Council recently granted planning permission on phases 2A and 4 of the scheme, work will begin later this year on additional housing, as well as a public park, sports and play facilities, community gardens, and 700 square metres of commercial space.
Lichfields' report stresses the importance of the resident consultation process – a crucial part of the Mayor's estate regeneration plans. Since July 2018, any landlord seeking funding from the Greater London Authority must be able to show that residents support their proposals through a ballot.
Despite criticism from the housing secretary over concerns this would slow down the delivery of much-needed housing stock, the firm has found such ballots can help to speed up the approval process.
"Engaging in the right way, securing that support from residents, and making sure that there's that shared investment and belief in a development upfront, is also a way of demonstrating that support to planning officers and local councillors, and it really carries a huge amount of weight," Kelway explains.
So much so that many developers are carrying out resident ballots even when they aren't required to, simply to demonstrate local support to politicians and planning officers, Catherall adds.
But before the ballot, Lichfields recommends carrying out a housing needs assessment to ensure plans are developed according to residents' needs. This stage will help to establish key parameters such as existing tenure composition, household sizes, accessibility requirements, parking provision, and individual resident requirements such as storage and security.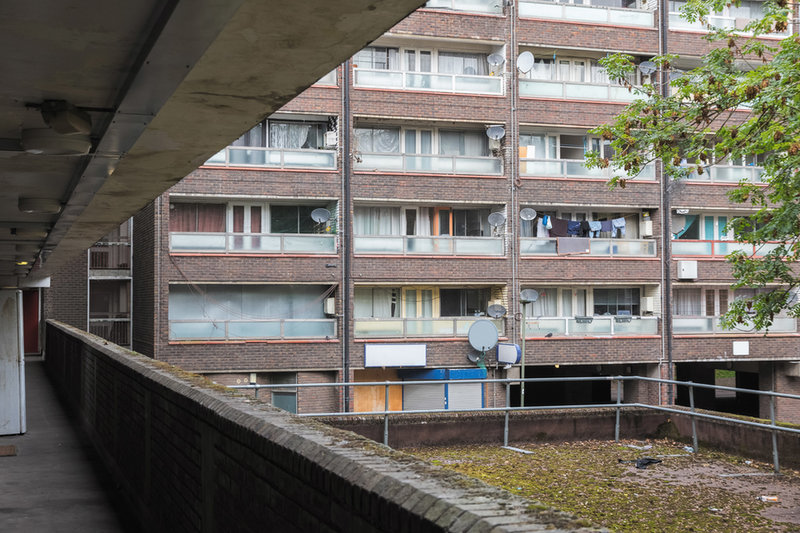 Much of London's housing estate stock is in need of modernisation. Pictured here: Grahame Park estate, in North London
The challenges of large-scale regeneration
Widespread estate regeneration certainly has the potential to deliver vital housing stock, but it won't be a quick fix for the capital's housing crisis.
Engaging with residents, seeking the support of councillors, and gaining approval can be a lengthy process. Likewise, larger projects are typically required to be carried out in phases to reduce the impact on residents, who will often need to be rehomed while work is carried out.
Planning permission was originally granted to redevelop Ealing's South Acton Estate in 2012, but first completions are not due until 2024, for instance.
"It's a big opportunity and these projects are happening at a significant scale," Kelway says. "But inevitably, they do take a long time."
Homes that are demolished and replaced will no longer benefit from the affordable housing grant in all but exceptional circumstances.
Funding could also pose a problem to future estate regeneration projects. Changes to the Greater London Authority's funding regime under the Mayor's Affordable Housing Programme will mean homes that are demolished and replaced will no longer benefit from the affordable housing grant in all but exceptional circumstances.
Often, the report states, these properties are in a poor state of repair and would require prohibitive investment to bring them up to standard. This, Lichfields says, puts greater burden on developers, which could result in a less comprehensive approach to estate regeneration, or force unnecessary redevelopment to make a project viable, increasing the risk of planning issues.
"This will make the viability of projects more sensitive, so they're harder to achieve and there's less desire to bring them forward," Catherall explains.
Effective estate regeneration
With reports estimating London must double its annual house building rate to meet demand, estate regeneration can certainly be a part of the solution. However, determining whether an estate is right for redevelopment requires careful consideration to find a solution that is cost-effective, likely to receive planning permission, and puts residents first.
"An important part of these projects is testing the options at the start," Kelway explains. "Despite the fact that a lot of these estates are inefficient, some are actually quite well built and do contribute to housing stock and provide good quality housing, while some older estates are heritage assets in their own right."
"We're certainly not saying it's a blanket approach that needs to apply to every estate across London. It needs to be selective and you need to be able to discriminate between the opportunities for more modest intervention and slightly more radical interventions."
Main image: Redevelopment of the Dover Court Estate in Islington will provide 70 new homes. Credit: Pollard Thomas Edwards and Galit Seligmann