Meeting the changing needs of the home
With remote working expected to become more widespread in the wake of the pandemic, requirements for homes are set to change. Alex Love asks architects how conversions and new designs can make homes more flexible and multi-functional.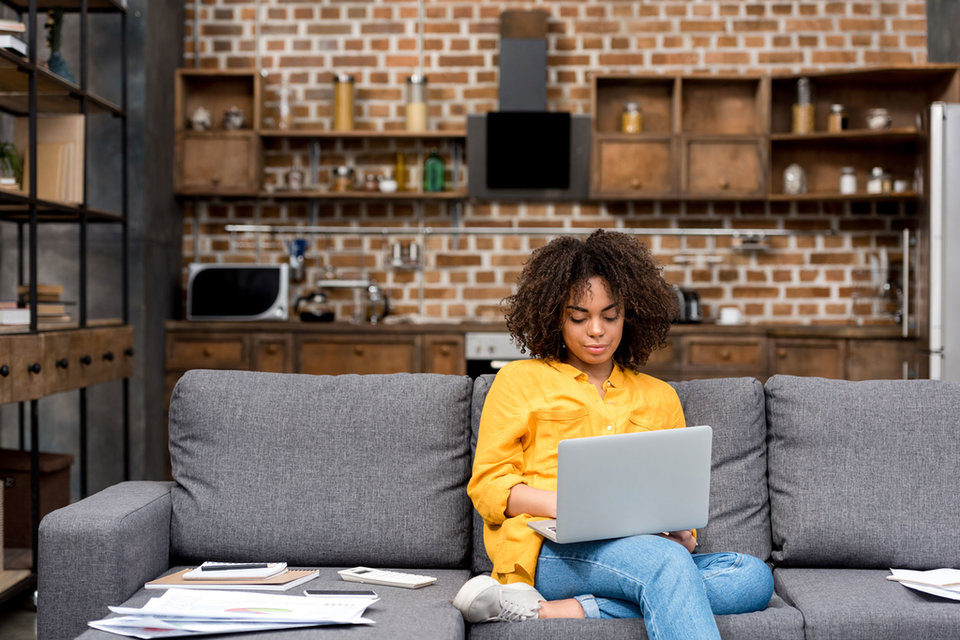 U
ses of the home have changed dramatically during the pandemic. In the 12 months since people were first told to stay at home, living spaces have transformed into makeshift offices, schools, and gyms.
While most changes necessitated by the Covid-19 lockdowns will not be permanent, the multi-functional home is a likely long-term result of the pandemic. And the increased amount of time spent in homes has given people the chance to think about the different ways to use their spaces.
Covid-19 has also seen a surge in people moving out of cities to more suburban and rural areas, where money goes further and extra funds can be used for home improvements.
People are increasingly seeking quiet spaces in homes where they can concentrate for prolonged periods, free from distractions. As a result, the appeal of the open-plan home has slightly diminished.
"We spent years trying to make our homes beautiful, open-plan, modernist spaces, and we're now sort of craving nooks and crannies to hide away," says Jacob Low, director of JaK Studio. "We're looking for homes to be a bit more multi-functional."
Children will go back to school, but remote working is set to remain for many adults in the post-pandemic world. This has resulted in a shift in what people want to use a spare room for, with the coronavirus ushering in a return of traditional study rooms.
"A year ago, it would have been much more about an entertainment space. People wouldn't have been necessarily looking for an actual formal working space," adds Low. "They just thought: 'Oh, I'll work here for a few hours from my kitchen table, or I'll work in the bedroom or something'. Now people are starting to go: 'Well, my back hurts after working at the kitchen table for a few hours'. Our homes aren't designed to be offices, that's the thing."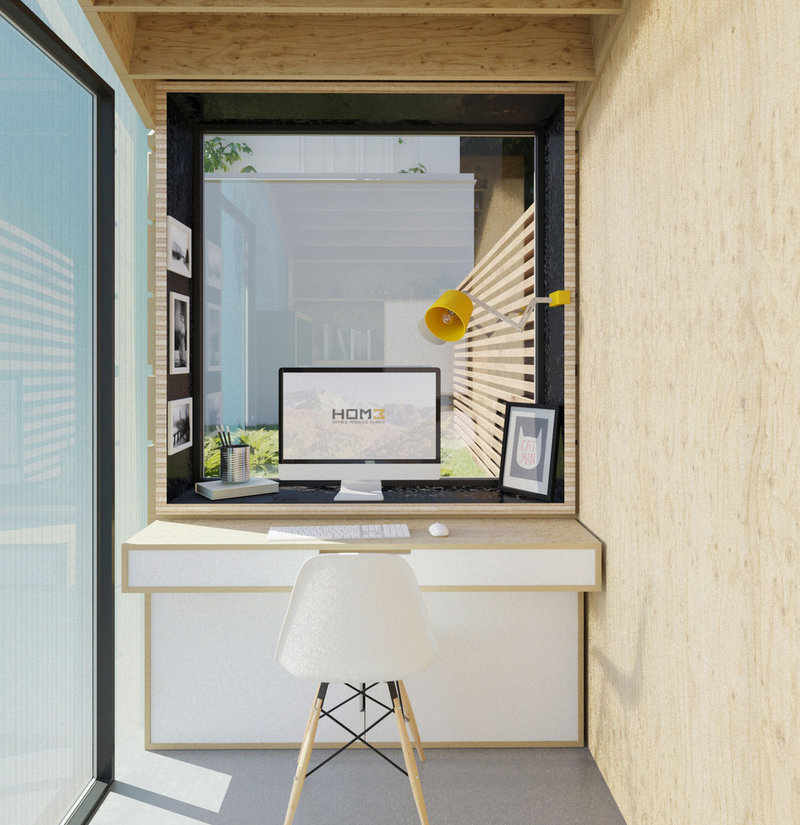 JaK Studio's HOM3 was designed as a flexible outdoor room, here pictured in its City Studio configuration. Credit: JaK Studio
Separate spaces for different activities
A downside to working from home is that it lacks the psychological separation between the professional and the personal environments normally provided by offices and homes. This distinction is particularly important from a mental health perspective in terms of shutting off from the work stress.
And while people may be seeking separate spaces in their homes for different activities, it is not always possible in certain home layouts. As a result, home renovations have increased in the last 12 months, often funded by money saved from commuting, gym memberships, and takeaway coffees. There is a focus on making homes more flexible and functional.
"More people are wanting to improve their home. And also, it's more of a focus on how we can create this extra space, or a space for separate activities. It becomes a lot more about the spatial layout that's important as a home rather than just adding space," explains Bethany Scott, Part II architectural assistant at Urbanist Architecture.
"A lot more people want to be able to close the door to one space for one activity and have a separate space for another. I believe there will be more demand for separate spaces. If a space is open-plan, you need the option to divide it when it's necessary."
The one thing you have to remember is that everyone interacts with their space differently. Everyone has different requirements.
Scott suggests that features such as moveable walls or sliding doors as partitions are starting to become more common in homes and this is expected to increase in the future.
"I think they're going to become a lot more popular, especially when it's, for example, large family houses where there are several members of the family all trying to do different activities. People have started to realise how that can cause issues in an open-plan house," says Scott.
"We've had a few enquiries where people are asking for different partitions between rooms. So maybe they have an existing open-plan space, and they want a design that creates more of a kitchen space, and then a snug kind of space. You have two different designs within the house, depending on what you need at the time. And I think that will be an approach that people do start taking."
However, Scott highlights how there isn't a 'one size fits all' solution – even for homes with similar layouts. Each case requires a different approach that must consider numerous factors.
"The one thing you have to remember is that everyone interacts with their space differently. Everyone has different requirements," adds Scott. "As architects, we try to accommodate those needs of specific people and the possibilities for that exact home. Because you're aware that not everyone has the space and not everyone has the exact same arrangement."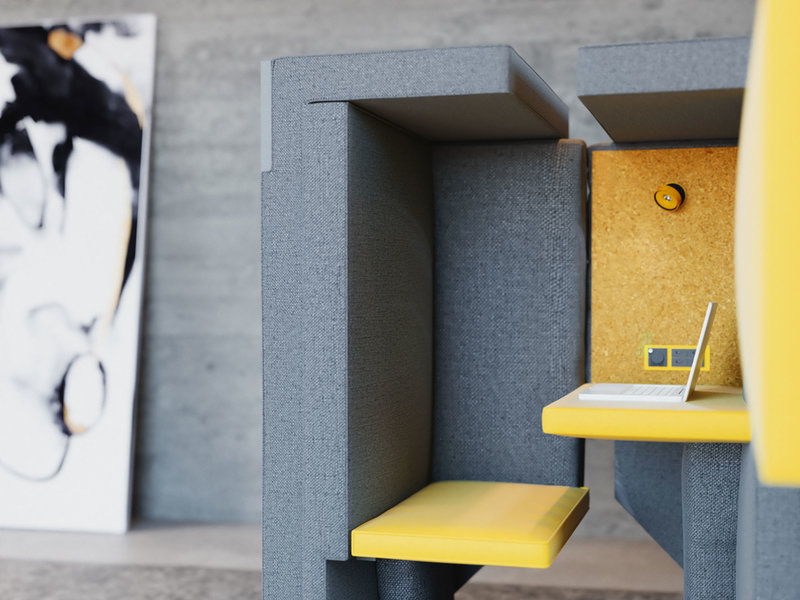 The L20 is a sofa that can be transformed into an office cubicle. Credit: JaK Studio.
There has been a significant rise in online searches for office desks and chairs, with many workers not keen on returning to commuting for five days a week when restrictions end. Google, Microsoft and Twitter are just some examples of companies to have stated they will allow a large part of their workforce to work remotely on a permanent basis.
Yet homes can be full of distractions, which need to be minimised to ensure there is no drop in productivity.
One increasingly popular option is the modular office unit outside, which provides that all-important detachment from the home environment and offers much-needed natural light.
JaK Studio has recently unveiled its Home Office Module Cubed (HOM3), which took inspiration from the online game Minecraft. Its modular design can be customised to fit specific spatial constraints and requirements. Other uses include a treehouse, a garden shed, and an accommodation unit.
"A year ago, before the pandemic, I don't think I would have considered designing a kind of pimped-up shed," admits Low.
However, not everyone is fortunate enough to have the space to install an outside unit. For those with smaller areas to work with indoors, there are other options, too. Low, for instance, has designed a sofa that can be folded into a work cubicle, featuring plug sockets and a desk.
Called the L20, Low says the concept was never intended to be rolled out on a commercial scale, but media attention attracted genuine sales queries as far afield as Brazil, China, Japan, and Korea.
"I was just trying to work at the table when my kids built a den out of my sofa and just thought: 'Wouldn't it be great if I could have a little bubble to go into?'," he says. "It was just more of a kind of thought piece than anything else. Maybe it just tapped into the zeitgeist."
The L20 is currently in design development and Low is in early discussions with manufacturers, with a possibility of the product being launched later this year.
Low predicts that homes could feature more personal spaces in the future, as tastes and priorities change over time. "Maybe we'll all have our own little spaces, and maybe we'll try and find different ways of working, just like we watch TV in different ways to how we used to," he adds.
Main image: The Bauhaus Archive in Berlin. Credit: Simone Hutsch on Unsplash