Architecture industry briefing
The latest news and stories you need to know about
In numbers: sustainability
of ACE businesses believe embracing sustainability gives them a competitive edge, according to a recent survey of European companies by Autodesk and Frost & Sullivan.
of AEC businesses responding to the same survey said have a dedicated sustainability team.
of ACE businesses are investing in technology and software to become more sustainable, including tools like AI, BIM and digital twins, according to the Autodesk and Frost & Sullivan report.
The survey found that ACE business in the Nordic countries lead the way with 91% respondents having a dedicated sustainability team, followed by 81% in the Benelux countries and 78% in the UK and Ireland.
of ACE businesses surveyed said that customer retention is the most important driver for embracing sustainability, followed by customer expectations at 84%.
Milan's new business district makes progress
Antonio Citterio Patricia Viel has announced the topping out of Building D, the second office complex to be completed in Milan's new Symbiosis business district. Credit: Antonio Citterio Patricia Viel
A new face for a traditional public bath
4a Architecten has completed the renovation of Mineralbad Berg, Stuttgart's oldest public baths originally opened in 1856. The modernisation project aimed to preserve the original character of the bathing landscape from the 1950s and 1970s. Credit: Uwe Ditz
A sustainable complex for Riyadh
Brooks + Scarpa has unveiled designs for a 1.2 million square foot complex for the Ministry of Environment Water and Agriculture in Riyadh, Saudi Arabia. It consists of seven buildings, 3500 cars and a solar system that will generate 75% of the site's entire energy use. Credit: Brooks + Scarpa
UK innovation consultancy ;New Territory has created a series of concepts exploring how city centres could be transformed post-pandemic in response to the current challenges facing the real estate sector, businesses and local governments.
The illustrated concepts address several ways to make city-centre buildings as porous, agile and flexible as possible, and ideas to better connect buildings to each other, to the street, and to the communities around them in a post-Covid world.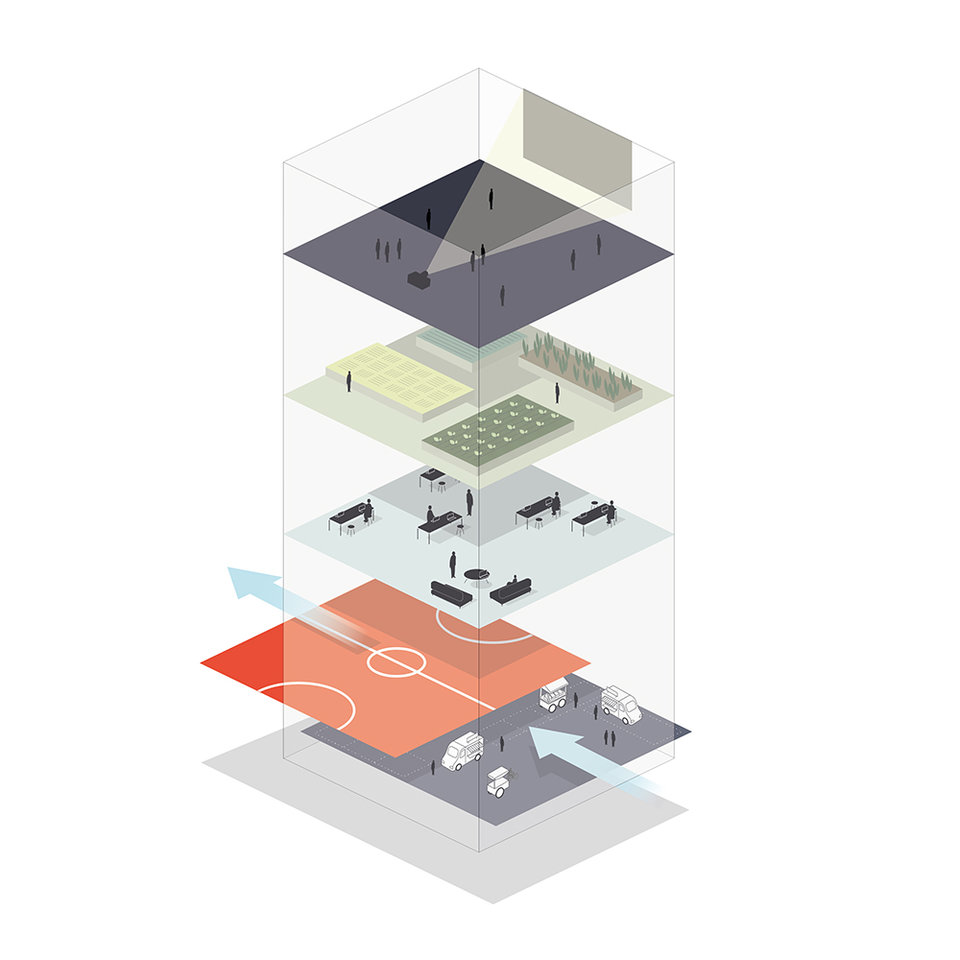 Instead of a stack of fixed open-plan offices, agile floor plates could create flexible spaces that cater for a variety of activity, such as mini-factories, urban farms, pop-ups and workshops.
Porous facades could make buildings more accessible to the outside world, connecting structures to the surrounding community, extending the streetscape upwards and attracting footfall.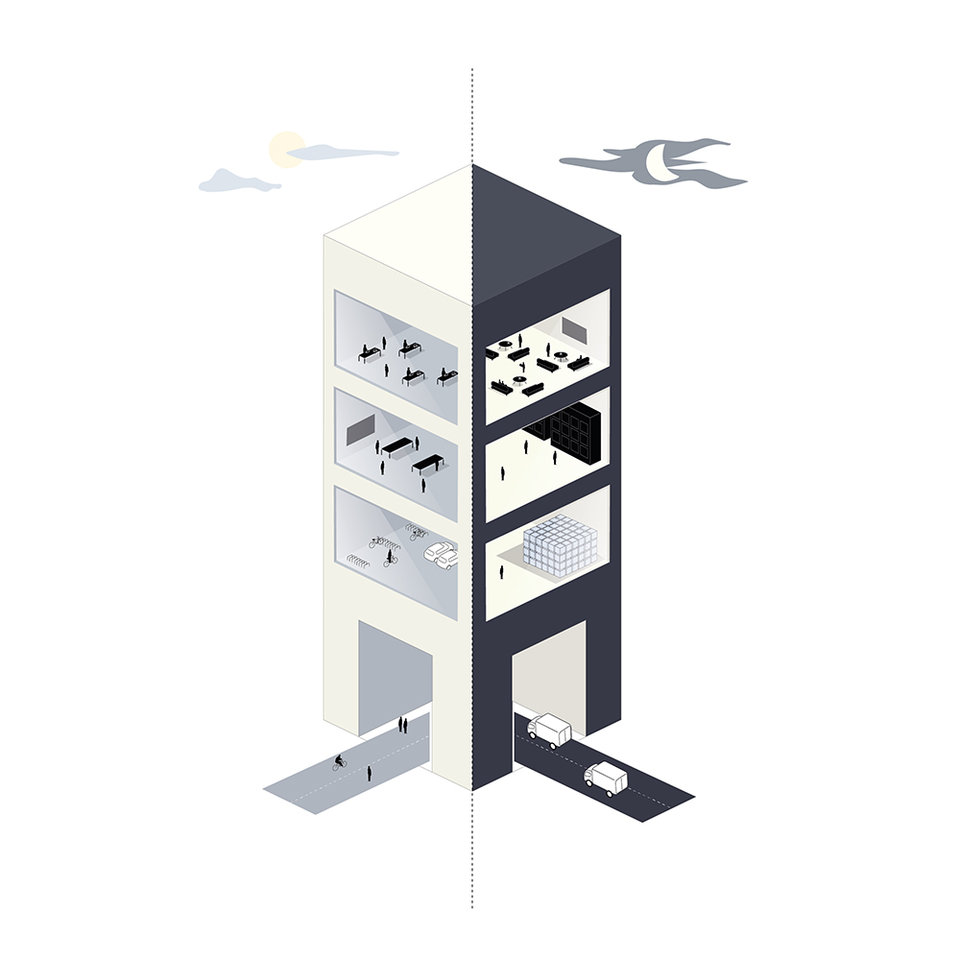 Most office buildings have daily rhythms that revolve around the working week. Greater flexibility in layouts, modular spatial design and new applications of technology could create a day & night mode, which would optimise a building's night-time function, increase potential revenue streams and diversify its functionality.
No two buildings are the same, but nor are they islands. If neighbouring structures were better connected, both physically and experientially, a horizontal network could emerge that gives people and services more seamless and fluid ways of navigating the city, and opening up new opportunities for how brands and businesses might occupy these spaces.
While many buildings incorporate solar panels and other technology to make them more self-sufficient, more can be done to make every building a positive contributor to the local infrastructure. From producing and recycling energy to creating cleaner air, buildings can provide greater environmental benefits for all who move within and around them.