What was the "clear" innovation to be honored at CES 2021?
What does it mean to research and to experience for Chemolli Fire? It means team work. It means challenge. It means applying methods and knowledge to solve complex issues.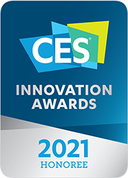 W
hen choosing the best products to be honored for CES 2021 in the Smart Cities category, one product stood out among the rest. eyrisei350® privacy glass can instantly change from clear to translucent. This innovation can help prevent the spread of Covid 19 as well. eyrise® privacy glass helps to minimize the transmission risk between workers, without compromising the benefits of visual and social connection or diminishing the aesthetic appearance in a premium office space. The glass switches into translucent privacy mode in an instant via an app, or a simple switch giving people to freedom to focus on their tasks, to undertake confidential work or just to take a break.
Open BIM enables more informed collaboration, resulting in better quality builds. Credit (all images): Reid Brewin Architectes
eyrise i350® privacy glass. The choice is clear.
Download the eyrise i350 brochure here!
Buteyrise®privacy glass isn't the only option when it comes to dynamic glass solutions. The eyrise® s350 has become the gold standard in dynamic glass solutions. Eyrise solar glass can go from a completely clear state to a darkened state in a matter of a few seconds. There is no other switchable glass on the market that can do this the way eyrise® can.
eyrise® was created with the wellbeing and comfort of the occupants of the building in mind. It's goal is to create a feeling of "lightwellness" for people inside while keeping the aesthetics and vision of the buildings architecture free of external shading.
Having a piece of software that uses a non-proprietary-based data exchange means the files can be easily shared.
Imagine being able to create ideas with unrestrained limitations. eyrise® dynamic glass can be custom made to almost any specification. There are no limits to colors or shapes. Whether new construction or refurbishing an older building, the eyrise® team has had enough experience with large scale projects to give your next project something that no other façade can.
Both eyrise® i350 Invisible Privacy Glass and eyrise® s350 use Merck's Licrivision® Liquid Crystal technology, a transparent solution of cholesteric liquid crystals. It is placed between two glass sheets that are coated with a transparent conductive film. Prompted by low voltage, the liquid crystals direction shifts and moves from a random position to a well-organized orientation in a second. This results in either a glass which is scattering the light thus providing a complete privacy state, or a highly transparent glazing.
Would you like to know more?
Download more information here!
CHEMOLLI s.a.s.
di Eros Chemolli & C.
Via Fitta, 1 - 38062 – Arco (TN) – ITALY
T +39 0464 518969