High-Rise 2.0: The solution to post-pandemic living?
Piero Lissoni has proposed a self-contained skyscraper that would house an entire community and a vertical urban farm as a model for post-pandemic living. Luke Christou takes a closer look at the concept.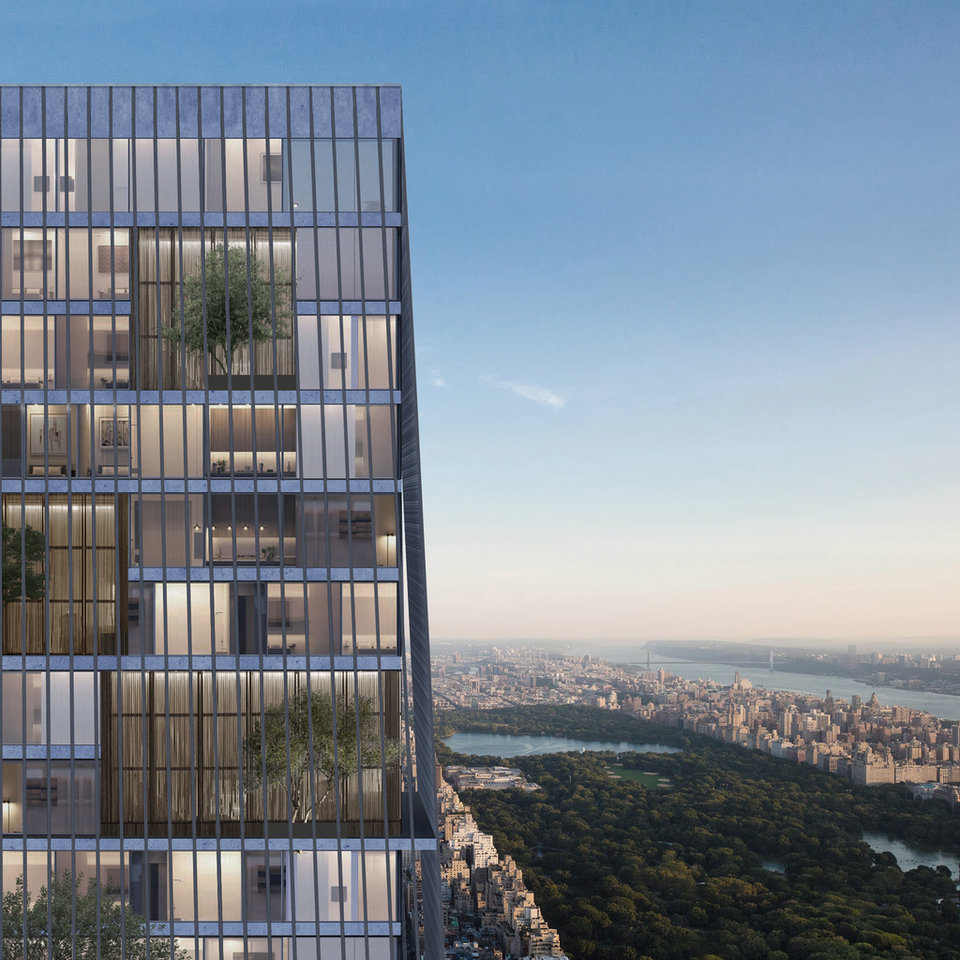 F
rom greater consideration for sanitation as a result of cholera, to a focus on bringing air and light into our buildings in response to tuberculosis, pandemics often lead to significant change in the design of our cities.
The Covid-19 pandemic will undoubtedly leave its mark, too. Lingering anxieties, heightened concern for health and wellbeing and, for many, a desire to stick to the simpler way of life that it has offered will remain. Then there's the chance of new strains, future diseases, and the return of lockdown measures.
Designed for the Skyhive 2020 Skyscraper Challenge in response to the events of the past year, Lissoni Casal Ribeiro's 'Skylines' concept envisions the future of city living. The concept is "not simply a skyscraper", the firm says, but a "veritable ecosystem which integrates architecture and nature".
The Skylines concept incorporates forests and vertical farms as part of a high-rise community. Credit (all images): Lissoni Casal Ribeiro
Inside the post-pandemic vertical city
The Skylines concept contains everything necessary to live comfortably. The building's lower floors are reserved for public and cultural activities, while those above provide space for soilless vegetable gardens that would provide a sustainable food source for its residents.
Higher up, there is space dedicated to sports and exercise, as well as a hospital to deal with future health emergencies. Younger occupants will be able to attend school and university without stepping foot outside, while adult occupants can make use of office and co-working spaces.
The top floors of the tower are reserved for residential space to take advantage of the "sublime views" that the structure would offer of the surrounding city.
"The functions are distributed vertically, allowing space at the bottom for activities that take advantage of the large garden platforms, while higher up the functions take advantage of the view and life closer to the sun," explains Joao Silva, head of LissoniCasal Ribeiro's design competitions department.
Vertical gardens provide a range of benefits such as reducing CO2, producing humidity, stopping wind, and providing protection from the sun.
Inspired by the tree, nature's 'most inspiring element', the structure is surrounded by garden platforms that wrap around each floor. Different plant species, ranging from lush tropical gardens on the lower levels to simpler green spaces made up of moss and shrubs on the higher floors, would be selected for each building based on factors such as location, sun exposure, and altitude. These vertical gardens provide a range of benefits such as reducing CO2, producing humidity, stopping wind, and providing protection from the sun.
The towering structure is surrounded by a curtain of steel cables to provide structural support, while also serving an aesthetic function.
"The construction technique means that a building with a considerable number of floors can be built even in those areas of the world that are most subject to severe weather conditions and winds," Silva says."The structural cables, with OLED fixture and IoT technology, can produce any kind of static or moving images, transforming the environment of the landscape like a giant light installation. The illuminated surfaces can be used for advertising purposes or simply illumination."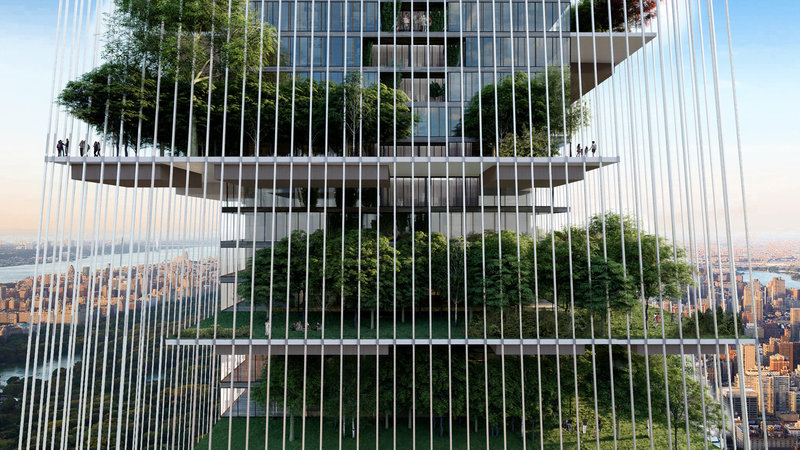 Steel cables provide support to the towering structure and hanging gardens.
Supporting post-pandemic living
The idea behind the project, Silva explains, was to create a self-sufficient ecosystem that offers 'autonomy and independence' to those that occupy it.
Generally, Silva doesn't believe that there will be a drastic change in the way we live in our cities. "Traveling outside your neighbourhood makes part of our human nature," he says.
However, in the events of future pandemics, such an ecosystem would allow us to, for the most part, carry on as normal. There would be little need to travel outside of the building for supplies, medical attention, work or exercise. Likewise, should an outbreak occur, it would be largely confined to that particular building.
"Hosting all of these functions, our building becomes a vertical neighbourhood," Silva says. "It means that in a parallel situation like we are living now, we could take advantage of all the functions we need without leaving our building."
Last year's lockdowns led to a sharp dip in harmful emissions. NO2 levels in China dropped by 40% in January and February, equal to removing almost 200,000 cars from the road. Likewise, global CO2 emissions were estimated to have fallen by as much as 7.5% in 2020 by the UN's World Meteorological Organization.
However, researchers have warned that the pandemic's benefit to the climate crisis will be negligible unless permanent action is taken.
"In the first lockdown the levels of pollution decreased drastically," Silva says. "Less people were creating waste, less people were moving. Therefore, our planet got a substantial benefit. It's a sign to open our eyes and our minds."
By reducing the need to travel, the Skylines concept would help to create a permanent reduction in transportation emissions.
Despite fears that Covid-19 could force us to neglect our commitment to tackling climate change, research by consulting firm BCG shows that we're more concerned about the environment than we were before the pandemic. Likewise, with the public largely in support of a 'green recovery' in places like the UK, sustainability could become a key feature of post-pandemic living.
By reducing the need to travel, the Skylines concept would help to create a permanent reduction in transportation emissions, which accounts for approximately 20% of all human-made greenhouse gas emissions globally.
Aside from placing residents closer to vital services, these structures would also be fitted with rainwater recovery systems, which would provide water to sustain its greenery and photovoltaic panels fitted around the exterior to collect energy from the sun, reducing the building's impact further.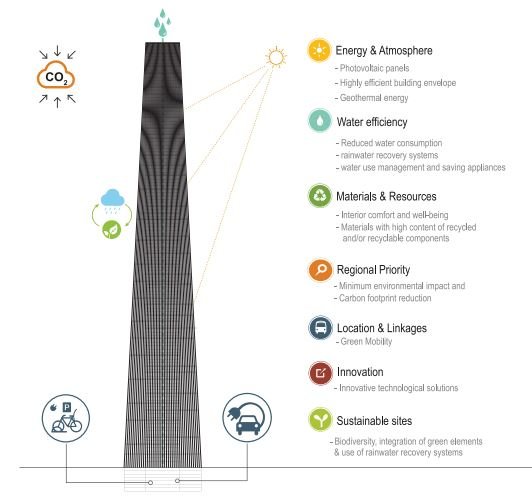 The concept incorporates solutions for providing energy, water and food for the building and its residents.
Regardless of what shape post-pandemic living takes, Silva hopes that there is a change not only in residential structures, but in the way we think about good design.
"Up to now, space has been the most important dimension, but today, seeing the state of our planet, the most important dimension is time, and time is running out," he says.
The Skylines project combined a number of possible environmental features into one design. Plenty of past projects have shown the viability of these measures, from Milan's famed Bosco Verticale towers, home to more than 900 trees that help to reduce pollution and improve the health of its residents, to The Edge, an Amsterdam office building skinned with solar panels to provide a green energy source.
"It is totally possible to start building intelligently with an eye to preserve our planet," Silva explains. "It is not a utopia but a simple sign of human intelligence and use of resources. It's time to start thinking and change our human inertia."
Main image: Rendering of the Skylines self-contained skyscraper concept against a backdrop of New York City.