From offices to homes: how Covid-19 could bring community back
The coronavirus pandemic is sparking a transformation in cities, as many opt to work remotely for the long term, leaving many office buildings empty. Luke Christou asks developers whether converting them into residential properties could become a major trend.
In
September, Great Marlborough Estates, the award-winning developer behind more than £1.5bn in residential redevelopment across London, announced the acquisition of Empire House, a disused office building that overlooks Chiswick High Road.
The acquisition - one of the largest residential transactions to take place since the UK was forced into lockdown back in March - will see Empire House and the surrounding site transformed to provide 137 new residential properties, as well as 9,000 square feet of retail and leisure space.
Designed by Assael Architecture, the development will draw inspiration from the surrounding area's red-brick buildings and green spaces. To meet changing requirements in the wake of coronavirus pandemic, each property will have access to a private outdoor space, as well as generous public spaces such as roof terraces.
The one-acre site has been earmarked for renovation for some time, with Australian developer Lendlease, the site's previous owner, having secured planning permission back in 2016. The new plan for the site comes amid suggestions that such redevelopments could offer a solution to an expected decrease in demand for office space as a result of the pandemic.
Social distancing, lockdowns, and quarantines have drastically reduced footfall in cities. In London, for instance, London Underground passenger numbers are still down by 72% compared to pre-Covid-19 levels, according to Transport for London. With 82% of employees desiring to work from home more often in the wake of the pandemic, this could be the new normal.
Addressing the housing shortage
According to Offices.co.uk, businesses have vacated one million square feet of London office space since March. Repurposing this disused space could play a vital role in overcoming the city's housing shortage, previously estimated at 66,000 new homes per year by mayor Sadiq Khan.
"Projects such as Chiswick High Road play an essential part in addressing the housing shortage by reimagining under or disused space into homes that people would want to live in," says GME co-founder Grant Lipton.
Office conversions have been encouraged as part of a strategy to reduce the shortage for some time. In 2013, the government introduced changes to the Permitted Development Rights (PDR) that allowed developers to carry out office to residential conversions without acquiring full planning permission in a bid to ease the crisis. Instead, the rights dictated that work could begin once prior approval had been received.
Amid the pandemic, the government has seemingly thrown further weight behind commercial-to-residential conversions. In July, further changes to the planning system were announced that will allow a greater number of commercial buildings to be redeveloped under the PDR, so long as new homes are being created. Likewise, the reforms will also allow developers to demolish commercial buildings without seeking approval.
Permitted development rights have undoubtedly helped deliver more homes but we have also seen some developers exploit them.
While the Empire House redevelopment isn't being carried out under PDR, but instead under pre-existing planning consent secured by the site's former owners, GME welcomes the reforms.
"Any reforms that help deliver a simplified, streamlined planning system are welcome, providing they still recognise the importance of green spaces, great design and homeownership," Lipton's fellow GME co-founder, Dean Clifford, explains.
Despite the benefits, a report from the Ministry of Housing, Communities & Local Government detailed the poor quality of homes developed under the PDR, of which just 22% met space standards, compared to 73% created through full planning permission. These unsuitable conversions will be banned under the new planning rules, but GME believes greater effort is needed to ensure that the right projects are being funded and supported, and that appropriate assessment is taking place.
"Permitted development rights have undoubtedly helped deliver more homes but we have also seen some developers exploit them." Clifford says. "We need to see the government commit to funding traditional affordable rented housing and social infrastructure such as new schools and hospitals, as well as ensuring that local planning departments are properly resourced, too, so they can enforce the plans and regulations that have been drawn up in collaboration with local communities."
The Empire House redevelopment has been designed with changing requirements in mind, offering ample access to outdoor space.
Mass office to residential conversion
Are we likely to see disused office buildings flood the property market in the wake of Covid-19, and will developers turn their attention to these opportunities in their droves? The answer is: probably not.
"The death of offices has been prophesied before but has yet to happen," Lipton points out. "While we think Covid-19 will lead a shift towards more flexible working patterns, with more people working remotely or from home, fundamentally we believe there will always be demand for fixed workspaces like offices," Lipton explains. "Why? Because you cannot recreate the learning or creativity that comes from in-person collaboration over Zoom."
According to the latest data published by the Office for National Statistics, approximately 60% of UK workers have already returned to the office, while just 25% continue to work exclusively from home amid the pandemic. According to recent research by Slack, 72% of workers would prefer a flexible, hybrid approach.
Developers are likely to continue to do as they have always done – evaluate the suitability of the property and the needs of the area, and determine the best course of action.
GME believes this change will have some impact on the office market, with some buildings likely to require redesigning or repurposing in order to reflect our new working habits, particularly in areas that are "less attractive" to workers. However, the developer doesn't expect to see a "mass wave of office-to-residential conversions happening".
Instead, developers are likely to continue to do as they have always done – evaluate the suitability of the property and the needs of the area, and determine the best course of action, whether that's supply office, retail, or residential space.
"The suitability of offices for conversion to residential varies from building to building, but with Empire House we felt there was a unique opportunity to transform a landmark tower that has been dormant for a while into much needed high quality housing," Clifford says.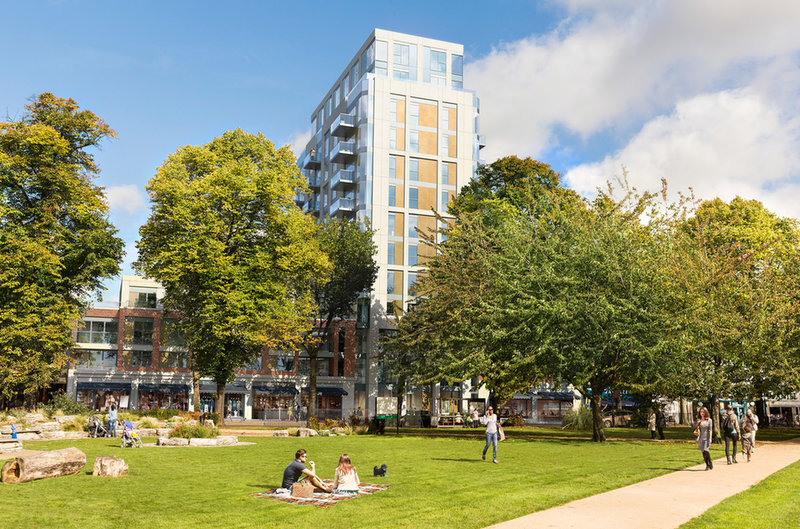 Great Marlborough Estates is converting the disused Empire House building in Chiswick to create 137 new homes.
Rather than supporting speculation on the demise of the office, the Empire House acquisition instead shows confidence that cities like London will continue to thrive in the pandemic's wake.
"As a business, Great Marlborough Estates continues to believe in both the positive long-term outlook for London as a city and London's housing market," Clifford says.
Not only because there will always be demand for physical office space in the "beating heart of the UK economy and one of the world's leading commercial hubs", but because of the "soft fundamentals" that London possesses – world-renowned culture and leisure scenes, leading schools and universities, and its rich, historic architecture.
Credit (all images): Great Marlborough Estates