Sponsored by swissFineLine
What does it mean to research and to experience for Chemolli Fire? It means team work. It means challenge. It means applying methods and knowledge to solve complex issues.
F
or Chemolli Fire each project has its own development because it is built on the needs of the customer. We based our company identity on the idea of a challenge: to satisfy the customer's request with the best personalized product (research), to make available the skills of the whole team (design and manufacturing experience), to get the result (product warranty) and to offer complete assistance (administrative and legal competence).
The planning includes three steps: manufacturing in Italy, testing abroad (Spain, Germany, US) and obtaining American and European certifications. The first and fundamental task is to understand the intentions of the standards regulators, including those located overseas, because the ratio of hose derives from differing US and European notions of "fire-fighting" and this point of view must be considered a priority when developing the project. The monitoring and testing phases are very delicate and stressful and our team is always present during work tests to verify every possible criticality and solve it.
Frameless windows open up fascinating design possibilities. The room-high sliding windows from swissFineLine define the premium class of filigree glazing.
swissFineLine creates unique room concepts with boundless views with large window fronts. Almost frameless glass elements, which extend from floor to ceiling, allow the interior to merge with the exterior and enable a natural living experience.
Thanks to threshold-free transitions in combination with automatic sliding door operation, maximum comfort is guaranteed. Accessibility from the inside to the outside allows maximum mobility and freedom of movement.
Having a piece of software that uses a non-proprietary-based data exchange means the files can be easily shared.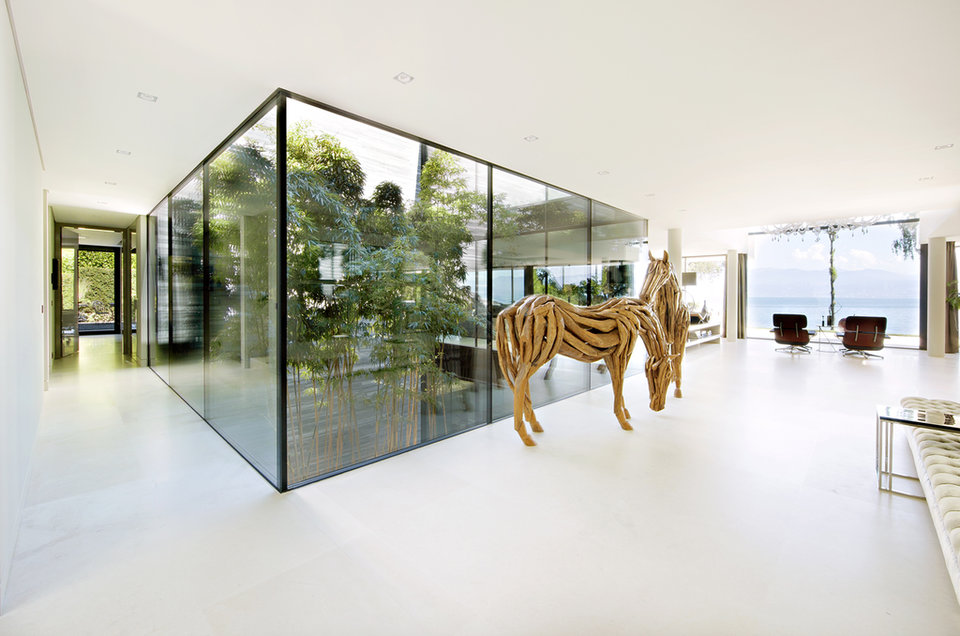 Open BIM enables more informed collaboration, resulting in better quality builds. Credit (all images): Reid Brewin Architectes
Implementing interoperability
In addition, various components such as shading solutions, insect screens and privacy screens create an incomparable overall solution.
The premium window for demanding construction projects and stands for the highest quality in design and technology.
The future-oriented system fulfills the highest requirements in terms of architectural design, safety as well as thermal and sound insulation in all respects.
swissFineLine ensures a high degree of personal and property security with the highest burglary protection class RC4. Your window can also withstand the most extreme attempts to break in.
With swissFineLine you stay undisturbed. The system excels through excellent sound insulation (Rw = 46dB). So, your home becomes an oasis of peace.
It's all about the view. swissFineLine offers element sizes up to 20 m². In this system, the glass acts as a self-supporting structural element, which makes it possible to completely omit any framing.
Through constant further development, swissFineLine is and remains the trend-setting premium window in the highest quality standard and inspires architects and builders alike.
swissFineLine AG

Gerbestrasse 15
3550 Langnau i.E.
Schweiz
Phone +41 34 409 50 50