Open BIM in the spotlight
In the past decade, adoption of building information modelling (BIM) has skyrocketed as the architecture, engineering, and construction sector realised its potential to improve coordination and productivity, reduce risk, and save time and money. Luke Christou explores how is BIM adapting for the future.
In
2011, the annual NBS BIM Report recorded BIM adoption at just 13%, with 43% unaware of the technology's potential. Today, based on a survey of more than 1,000 industry professionals, some 73% of firms are now using BIM, while just 1% are unsure of what it offers.
While BIM has helped to improve communication and collaboration between stakeholders, there is still room for improvement. According to a recent survey conducted by the Institute of Civil Engineers and ALLPLAN, organisations face a variety of issues when using BIM, including unexpected design changes (55%), exchanging information between parties (45%), and incompatible software (43%).
These problems are, in part, caused by the wide range of software available – according to Newforma's The State of Technology: AEC Firms report, there are seven BIM applications frequently used across the architecture, engineering, and construction (AEC) industry, and many more niche tools. While an architectural firm involved in a project may work in Revit, the structural engineer may prefer to use Tekla, and the mechanical, electrical and plumbing (MEP) engineers may use Navisworks, which causes issues to arise when sharing files.
Implementing interoperability
In order to avoid issues such as data loss, the various applications used throughout a project need to be able to exchange and handle information without loss or corruption –not just between one company's suite, but between all AEC software providers.
In 1994, Autodesk invited 12 other industry leaders to form the Industry Alliance for Interoperability, a consortium focused on improving interoperability in AEC. The consortium's focus was on developing the Industry Foundation Class (IFC) file extension, a BIM modelling file that could be read and edited across various software.
The first iteration of IFC was released in 1996, with 26 companies across Europe, North America, and Asia, including Autodesk, Nemetschek, and Bentley, committing to making their software IFC-compliant.
In the 25 years since, the Industry Alliance for Interoperability – since rebranded as BuildingSMART – has seen its memberships more than double to 60, as software companies across AEC continue to work towards BuildingSMART's vision of the "full realisation of the societal, environmental and economic benefits of open sharable infrastructure and building asset information".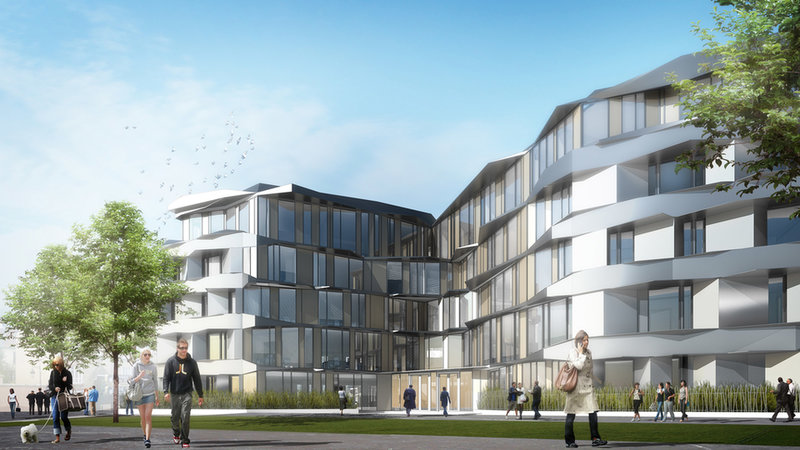 Open BIM enables more informed collaboration, resulting in better quality builds. Credit (all images): Reid Brewin Architectes
Marek Suchocki, Autodesk's infrastructure industry engagement lead for EMEA, points to the various agreements made between Autodesk and its industry peers as evidence of the efforts being made to improve interoperability between systems and softwares.
"This includes committing with ESRI in 2017 to bring together GIS [Geographic Information System] and BIM across multi-disciplinary teams and project lifecycles, as well as agreeing with Bentley in 2008 to exchange software libraries to improve the ability to read and write their respective DWG and DGN file formats," Suchocki explains.
More recently, Autodesk joined non-profit consortium the Open Design Alliance (ODA) to improve its data exchange standards in the wake of criticism from customers, and received IFC4 Certification from BuildingSMART for Revit, joining Vectorworks, Graphisoft, and Trimble in having achieved the highest standard.
"These efforts are certain to benefit design and construction specialists by enhancing workflows across the capital project lifecycle as well as owners and maintainers of assets in operations," Suchocki says.
This commitment to open standards has allowed for the development of open BIM, a process that significantly improves accessibility, and therefore collaboration, between the stakeholders involved in a project.
Closed, or native BIM, typically requires all stakeholders to use the same software. Subsequently, only those with access to, and knowledge of, that particular software are able to collaborate on a project.
Open BIM, on the other hand, allows stakeholders to view and edit a project using their preferred BIM tools using open file formats such as IFC. This means they can choose their design software based on functionality, rather than compatibility.
Having a piece of software that uses a non-proprietary-based data exchange means the files can be easily shared.
Recently, Boston-based architecture firm Flansburgh Architects transitioned to an open BIM approach while working on the design of a new school for the town of Holbrook, Massachusetts. While the architectural design was completed in Nemetschek's Vectorworks, IFC allowed consultants and subcontractors to view and edit files in their preferred software. Engineers, for instance, were able to develop structural and MEP models in Autodesk's Revit.
"Having a piece of software that uses a non-proprietary-based data exchange means the files can be easily shared," says Brian Hores, BIM manager for Flansburgh Architects. "This allows us to use other tools and not be forced into one ecosystem – it allowed the multi-disciplined design team to use their preferred system."
With the use of an open file format, files become easier to share without risk of information loss or file corruption, meaning less time is wasted recreating lost data and efficiency is subsequently improved. Likewise, with project stakeholders able to access a single file throughout all stages of the project, more informed decisions can be made that ultimately lead to better outcomes.
Open BIM played a vital role in managing the complexity of the 340,000m2 Queen's Wharf resort development in Brisbane, for which DBM Vircon's PDC division was awarded first place in the design category at the 2019 BuildingSMART International Awards. The project saw 39 contributing companies collaborate across 16 different software applications to create the award-winning design.
The participants of the Queen's Wharf resort development in Brisbane used 16 different BIM applications. Credit: DBM Vircon
"The aspiration is great in the sense that we all want to share data across multiple disciplines," says Adrian Brewin, co-founder of Reid Brewin Architectes (RBA). "By its very nature, it should improve coordination, avoid delays, enhance quality and help firms to stay on budget – as efficiently and seamlessly as possible."
Offering a turnkey solution, with the firm involved in the entirety of a project from design through to construction, RBA recognises the benefits of improved collaboration. Yet, implementing an open BIM process isn't as simple as saving files in an open format.
"The reality is that we each use different software, and the technology is evolving at such a rapid pace, that there is an inevitable lag while everyone tries to catch up," Brewin says. As BuildingSMART's list of certified software shows, open standards aren't quite yet standard across the industry.
To improve the construction process, we must collectively make better use of the increasingly large amounts of data at our fingertips.
Likewise, with increasingly large amounts of data being shared between stakeholders, BIM has raised questions about the ownership and responsibility of project data, and liability when situations arise. With this, there is likely to be some reluctance towards granting even greater access to data.
"There is – and likely will always be – a resistance to sharing the intellectual property across companies, particularly when there are projects with NDAs [non-disclosure agreements] in place. This raises questions about responsibility," Brewin says.
There is no denying the benefits that open BIM can provide though, insists Brewin, whose firm has been using BIM software for all its major projects since 2011. In fact, with the pandemic has reduced opportunities for face-to-face meetings and collaboration, there is now an even greater need for open tools.
"For example, by moving our working day-to-day BIM model to another package, it enables clients to visit the building in virtual reality – something which is particularly important in the current climate," he says.
"To improve the construction process, we must collectively make better use of the increasingly large amounts of data at our fingertips. Open BIM is undoubtedly the way to share standardised information that guarantees interoperability between all business software."